Home
|
Encylopaedia
|
Composers
| CHARLATANS
The CHARLATANS (1989-)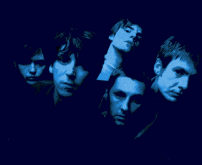 The Charlatans became well known in the early 1990s for their shuffle-funk style of music which was influenced by 1960s psychedelia, using the Hammond organ. The Madchester label soon became associated with them. The band comprised of Tim Burgess on vocals, Martin Blunt on bass, Jon Baker on guitar, Jon Brookes on drums and Rob Collins on keyboards. An additional member in Captain Whizzo helped with stage presentations and psychedelic visuals.
Released material included their debut 12" "Indian Rope" (1990) on their own Dead Dead Good label which sold over 20,000 copies and reached no.1 in the UK indie charts with very little air play, the single "The Only One I Know" (1990) on Beggars Banquet which reach the UK top 10 and the following single "Then". Their debut album was "Some Friendly" (1990) which reached the UK no.1 album charts.
They launched their first American tour in 1991 and in the same year as the band began work on a second album, Baker left the group and was replaced with Mark Collins. Their following album was "Between 10th and 11th" (1992) and it spawned 2 singles "Weirdo" and "Tremolo Song". It didn't do too well and was released to critical indifference. It was also overshadowed by Blunt's depression and Blunt unfortunately went on to suffer a nervous breakdown. Other problems occurred with the band when Rob Collins was arrested as an accessory to armed robbery in 1992 and was sentenced to 8 months in prison. He went on to serve 4 months in Shrewsbury and Redditch open prison while the other members began work on their 3rd album.
"Up To Our Hips" (1994) was their third album which received good reviews and contained the single "Can't Get Out Of Bed". Other tracks were "Patrol" and "I Never Want An Easy Life If Me And He Were Ever To Get There". Rob Collin's parts were either quickly recorded before he served his sentence or were recorded afterwards. Tim Burgess sang on the Chemical Brothers "Life is Sweet" track in 1995 which was included on their debut "Exit Planet Dust" album. The Charlatans performed at various festivals during the summer of 1995 and their next album "The Charlatans" (1995) reached the no.1 position. They also contributed a track towards the Warchild/Help album entitled "Time For Livin'" in collaboration with The Chemical Brothers. The end of the year saw them touring the UK and the only draw back was that they were not allowed into America due to Rob Collin's criminal record.
Their next album was the very successful "Tellin' Stories" that contained the single "One To Another". The single was the band's biggest hit to date, reaching no.3 in the UK charts. In July 1996 before the album was finished, Rob Collins died in a car crash. The Charlatans decided to continue as a quartet and the album was finished with the help of Primal Scream's keyboardist, Martin Duffy and released in 1997, reaching the UK no.1. They supported Oasis at Knebworth and played at the Chelmsford Festival.
"Us and Us Only" (1999) is their last album to date.
Essential Albums:
Click on album cover to buy.

Discography:
Some Friendly (1990)
Between 10th and 11th (1992)
Up To Our Hips (1994)
The Charlatans (1995)
Tellin' Stories (1997)
Us and Us Only (2000)