Home
|
Encylopaedia
|
Composers
| CHEMICAL BROTHERS
The CHEMICAL BROTHERS (1989-)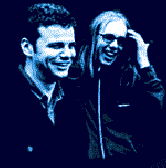 The Chemical Brothers were formed in Manchester (as the Dust Brothers - named after the team who produced "Paul's Boutique" by the Beastie Boys) in 1989 between two Manchester University students, Tom Rowlands and Ed Simmons (originally from Kingston-Upon-Thames). They initially called themselves the Dust Brothers, however they were threatened with legal action six years later by an American hip hop band, so they ended up changing their name in 1995.
They started out as a DJ outfit and soon had their own night called Naked under Leather which grew in popularity. In 1992 they recorded their "Song to the Siren" track which was a mixture of hip hop, Balearic style and house, after borrowing ?300. They pressed just 500 copies. This track was later remixed by Andy Weatherall under Junior Boy's Own Records. Rowlands was also a member of the indie-dance band Ariel who had a minor hit in 1993 with "Let It Slide", however he left to concentrate on the Dust/Chemical Brothers.
During 1993 they had left University and moved back to London. They began to remix tracks for other artists/bands such as Leftfield and the Sandals and in 1994, they released their "The 14th Century Sky" and "My Mercury Mouth" EPs under Junior Boy's own label. During the same year, they worked with Primal Scream, the Prodigy, the Charlatans, and Saint Etienne and they supported Primal Scream on their UK tour in addition to maintaining their regular DJ slot at the Heavenly Sunday Social club night at a London pub.
They signed to Virgin in 1995 and they released their "Exit Planet Dust" album. Noel Gallagher from Oasis agreed to sing on their "Setting Sun" single released in late 1996 and which reached no.1 in the UK charts. Also in 1996, they released the limited edition "Loops of Fury" EP.
Their second album "Dig Your Own Hole" (1997) contained tracks such as "Private Psychedelic Reel". Their "Surrender" album (1999) reached the UK no.1 chart position and earned them the best album at the Q awards in the same year. They won the Best Dance Act at the Brit Awards in 2000 and they released their "Music: Response" EP.
Essential Albums:
Click on album cover to buy.

Discography:
Exit Planet Dust (1995)
Dig Your Own Hole (1997)
Surrender (2000)