Home
|
Encylopaedia
|
Composers
| CHOPIN
Frederick CHOPIN (1810-1849)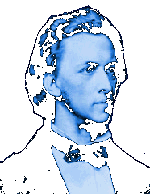 Chopin was a piano virtuoso and was among the leading keyboard composer-performers of his century. He made frequent use of enharmonic modulation and was rare in that he was one of the few Romantic composers not greatly influenced by Beethoven. He admired Bach and Mozart who both inspired in him fluency in the handling of form. He gave fewer than thirty public appearances during his short career. He was born in Zelazowa Wola near Warsaw, Poland on the 1st March in 1810 to a Polish mother and a French father. He studied the piano at the Warsaw Conservatory between 1827-29 and played his first public concert at the age of seven, publishing his first compositions at fifteen. One of his first published works was the "Rondo in C minor" (1825).
Schumann was largely responsible for drawing the German public's attention to Chopin and by the late 1820s, he had won a great reputation as a piano virtuoso and composer of piano pieces. Although he wrote occasionally for orchestra, voice and chamber ensemble, it was for piano that he was mainly famous. He toured Europe in 1829, giving concert performances acclaimed by audiences and critics. His style of writing was influenced by John Field (the inventor of the Nocturne) and by Paganini. He wrote twenty four preludes as well as studies, ballads, mazurkas, polonaises and waltzes. He wrote two concertos for the piano while on tour around Europe closely modelling them on Hummel's style. Other work includes his "Etudes" (1829 - 37).
He finally settled in Paris in 1831 where he gave piano lessons to aristocracy and sold compositions. He gave up playing in public and only performed in private and became friends with most of the outstanding musicians of the day including Berlioz, Liszt, Meyerbeer and Bellini. He quickly became accepted by the elite artistic society of Paris including many leading writers and artists and was readily taken up by patrons. Through Liszt, he met the novelist George Sand (aka Aurore Dudevant) in 1836. She had separated from her husband and in 1838 they both left Paris for Majorca.
While in Majorca, Chopin became ill with bronchitis and they went back to Paris in 1839. This was a difficult period as the Paris revolution left him without pupils or any means of support. He accepted an invitation to London where he played at private concerts but by the end of 1848 he was back in Paris. He began to suffer from tuberculosis and spent the rest of his life struggling with his illness. His health carried on deteriorating and his sister came out from Poland to care for him. He died in Paris in October 1849 at the age of just thirty nine.
Chopin's music has many references to his Polish origin. His mazurkas reflect the rhythms and melodies of Polish folk music, and his polonaises convey the heroic spirit of Poland occupied by other countries during his life. He composed ballads, scherzos, waltzes and etudes. His music is lyrical and romantic, very original with harmony, subtlety and poetic beauty. Chopin gave his music abrupt titles, concentrating on the music rather than on the picturesque titles that conjured up mental images of the music.
Essential Albums:
Click on album cover to buy.