Home
|
Encylopaedia
|
Composers
| CZUKAY
Holger CZUKAY (1938-)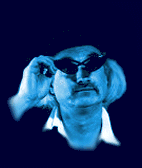 Holger Czukay was born on 24th March 1938 in Danzig, Germany and he became one of the founder members of the band Can and was also a successful solo artist and producer. His style of music which incorporates symphonic and avant-garde traditions with rock has influenced many artists. Czukay was interested in music from an early age and his non conforming attitude towards music led to his disqualification from a 1960 Jazz festival for performing unclassifiable music. In 1962 he was expelled from Berlin's music academy and later studied composition under Karlheinz Stockhausen.
Czukay spent a period teaching music himself before he became more interested in composing and playing music, having been influenced by one of his pupils Michael Karoli. He became familiar with popular music such as the Beatles and the Rolling Stones. Can was formed in 1968 with Karoli, Irmin Schmidt and Jaki Leibezeit.
In addition to playing and recording with Can, Czukay also released a limited edition (500) of "Canaxis 5" (1969) with Rolf Dammers at the Inner Space Studio. This album contained novel and previously unknown sampling techniques using tape splicing and also contained radio samples of world music. The samples consisted of thousands of tape recordings of two unknown Vietnamese singers on "Boat Woman Song". Czukay mixed these samples with his bass tracks, a technique he was later to refine.
Czukay split from Can in 1977 and he then began a very successful solo career with his release of "Movies" (1979) which contained his studio-editing samples from an Iranian singer on "Persian Love" and Jaki Leibezeit's guitar playing. It was rated no.5 in NME critics poll and Czukay was given the title of Musician of The Year from Sounds Germany.
His next project included working with the producer Conny Plank on the Eurythmics debut album in 1981. He also collaborated with Jaki Leibezeit and Jah Wobble on "Full Circle" (1981) and the track "How Much Are They" with Jah Wobble became a club hit. Czukay was later introduced to the Japanese singer Phew and with Plank and Liebezeit the album "Phew" (1982) was released.
Following albums include another collaboration with Jah Wobble on "On The Way To The Peak Of Normal" (1982) which included the D?sseldorf band SYPH, "Der Osten Ist Rot" (1984) which included a reworked version of the Chinese National Anthem and "Rome Remains Rome" (1987) which included samples of Pope John Paul II delivering an Easter message on the "Blessed Easter" track. Czukay also starred in a German television programme War of Sounds in 1987.
Czukay worked with David Sylvian on "Plight and Premonition" (1988) and "Flux and Mutability" (1989). Can was also reformed in 1989 for "Rite Time" (1989) and a live solo album "Radio Wave Surfer" (1991) was later released which featured the vocals of Sheldon Ancel and Czukay's French Horn playing.
Recently, Czukay has been busy in remastering the Can back catalogue for CD release. Other solo work has included "Moving Pictures" (1993).
Essential Albums:
Click on album cover to buy.



Discography:
Canaxis (1969)
Movies (1980)
On The Way To The Peak of Normal (1982)
Canaxis (1982)
Der Osten Ist Rot (1984)
Full Circle (1984)
Radio Wave Surfer (live) (1991)
Moving Pictures (1995)
Clash (1998)
Good Morning Story (1999)
La Luna (2000)