Home
|
Encylopaedia
|
Composers
| DAVIS
Reverend Gary DAVIS (1896-1972)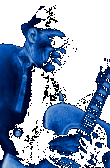 Reverend Gary Davis has been described as the real master of the Carolina Blues. He was born, blind on 30th April 1896 to John and Evelina Davis in Laurens County, South Carolina and was completely self-taught in playing the guitar and singing the Blues. He began playing the guitar at age six. He was one of eight children and was raised by his grandmother after being given to her by his father.
Exactly how Davis lost his sight seems to be a disputed fact. Interviews with Davis himself and with Stefan Grossman suggest that chemicals put in his eyes shortly after birth resulted in almost complete loss of sight by the age of three weeks although Davis has also said that he was able to distinguish shapes even as an adult.
Davis was interested in music from an early age. His first guitar was one that he built himself from a pie pan (some say a tin can and a stick) and he soon taught himself to play it to a standard where he was asked to play at dances. He also played the banjo and mouth organ and sang at the local Baptist Church in Gray Court, South Carolina. His musical influences included gospel, ragtime and jazz. In the 1920s he played in a local string band in Greenville and attended the Cedar Springs School for Blind People in Spartanburg, South Carolina, where he learned to read Braille. It was around this toime that he broke his wrist in the snow. Some suggest that the unusual angle it was left at aided him in being able to play otherwise impossible chord fingerings.
In the mid 1920s he married and travelled around South Carolina, North Carolina and Tennesse, playing and teaching guitar to earn a living. He settled in Durham, North Carolina around 1927 and became an ordained minister of the Free Baptist Connection Church in Washington, North Carolina in 1933. He founded three churches of his own in the Durham area during this time. He split from his first wife when he apparently found out that "she was everybody elses wife".
In 1935 J. B. Long, a North Carolina store keeper 'discovered' Davis and he made his first trip to New York to record for the American Recording Company. He recorded 15 sides (1 unissued) for ARC between July 23 and July 26, 1935. These sessions also included Bull City Red and Blind Boy Fuller, who were the stars of the session and received more money than Davis. Davis did not record another record until 1945. In 1937 he married his second wife, Annie Bell Wright, and in 1940 moved to Mamaroneck, New York when Annie found employment there. Later that same year they moved to 169th Street in Harlem, where they lived for the next 18 years. Davis became a minister of the Missionary Baptist Connection Church in Harlem.
In 1945 he began recording again and continued to record, perform and teach guitar for the rest of his life although he turned from the Blues to more Gospel influences. He was among the first performers at the first Newport Folk Festival in 1959, and throughout the sixties he was featured at other major events, including the Philadelphia Folk Festival.
During the mid 1960s Davis was persuaded to record secular blues and ragtime tunes. His technique and music have been widely emulated and Davis is cited as a major influence by bands such as The Grateful Dead, Dave Bromberg, Ry Cooder, David Van Ronk, Taj Mahal, Jorma Kaukonen and Stefan Grossman, all of whom covered his songs. Cocaine blues was covered by Jackson Browne on the album "Running on Empty", with a few additional lyrics.
In 1968 Davis bought a house in Jamaica, Queens. He continued to perform locally in the New York and New Jersey area. On May 5, 1972, he suffered a heart attack while on the way to a performance in Newtonville, New Jersey. He died at William Kessler Memorial Hospital and was buried in Rockville Cemetary in Lynbrook, New York.
Essential Albums:
Click on album cover to buy.


Discography:
Harlem Street Spirituals (Riverside RLP 12-611) (1956)
American Street Songs (1956)
Pure Religion & Bad Company (1957)
Say No To The Devil (1958)
Rev Gary Davis (Folkways 2512) (1958)
Harlem Street Singer (1960)
Gospel, Blues & Street Songs (1961)
Pure Religion! (Prestige 7805) (1962)
At Newport (Vanguard VMD 73008) (1965)
From Blues To Gospel (1971)
Lord I Wish I Could See (1971)
New Blues & Gospel (1971)
When I Die I'll Live Again (1972)
At The Sign Of The Sun (1973)
O Glory (1974)
Blind Gary Davis (1974)
Blues and Ragtime (1993)
The Singing Reverend (1994)
Live & Kicking (1997)
Little More Faith (1999)
Live at Cambridge 1971 (2000)
Reverend Gary Davis (2000)
Live at Newport (2001)
Rev. Gary Davis & Sonny Terry - Masters Of The Country Blues (Yazoo Video YAZ-501)