Home
|
Encylopaedia
|
Composers
| DEBUSSY
Achille-Claude DEBUSSY (1862-1918)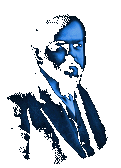 Debussy was born in Saint-Germain-en-Laye on August 22 1862. He was known as an impressionistic composer because of the way he used sound to create moods and his work was linked with French impressionist paintings and poetry. He was a well known fixture in Montmatre with the painters. Debussy certainly inspired much emotion in France, during his lifetime and after (some good, some bad). His music was maybe understated and was seen as a reaction against romanticism and classicism.
He studied as pianist and composer at the Paris Conservatoire between 1872-1884 and won the Prix de Rome in 1885 and spent 2 years in Rome. He was unsettled in Rome however and moved back to Paris a year later. During 1880-81 Debussy spent the summers in Russia as pianist to the family of Madame von Meck, Tchaikovsky's patron. Debussy used poetry for inspiration and he wrote "The Chosen Maiden" in 1888 based on a poem by Dante-Gabriel Rossetti.
He was also influenced by the poet St?phane Mallarm? (who wrote afternoon of a faun), Maurice Maeterlinck (who wrote the play "Pell?as et M?lisande" which Debussy transformed into an opera, took six years to write and which received it's first performance in 1902). He was also an admirer of Shakespeare and called one of his piano works "Puck's Dance". The poet and author Pierre Louys was a friend of Debussy and he wrote "Chanson de Bilitis", a pseudo-greek literary hoax set to music by Debussy. He also became friends with Eric Satie, whom he met in 1891 and who was a witness at Debussy's marriage.
Debussy was known to have been drawn to Eastern music and in 1889 at the Paris Exposition he witnessed Javanese music and dance and was known to have been greatly impressed. Javanese music accompanied bedanga dancers and included watery themes which could well have influenced Debussy in his liquid works, for example "La Mer" (1905) which had 3 movements, "Reflects dans l'eau" and "Jardins sous la pluie".
His most well known orchestral pieces are "Pr?lude ? l'apr?s-midi d'un faune" (1894) (Afternoon of a Faun) which was first performed in 1894 and "La mer" (The sea) in 1905. His other orchestral works include "String Quartet in G minor" (1893), three "Nocturnes" in 1899, three "Images" in 1909 and the ballet "Jeux" in 1912 which he wrote for the Diaghilev season and was originally choreographed for the dancer Vaslav Nijinsky. This was seen by some as his masterpiece of orchestral writing. Debussy was a fine pianist and he wrote much music for the piano. He dedicated his last solo piano pieces "The twelve suites" to Chopin , by whom he was also heavily influenced.
Debussy greatly admired Wagner and even made two pilgrimages to Bayreuth, one in 1888 to hear his music, before he became disillusioned. Liszt later became to impress him more. Debussy only wrote one opera "Pell?as et M?lisande" in 1902 (as above). Illness and the outbreak of war in 1914 prevented Debussy from composing much. In 1915-1917 however, Debussy started composing a set of six sonatas for various instruments, but remained unfinished. Only 3 were composed, the first for cello and piano, the second for flute, viola and harp and the third for violin and piano. He was also commissioned to edit some of Chopin's piano works that year. Stravinski, Ravel and Falla all composed music dedicated to his memory after his death. He also had a friendship with Edgard Var?se.
It has been discussed that Debussy could well have been the first ambient musician. He rejected his traditional musical training and opted instead for a more fluid type of music that has been compared with post-war electronic music. He preferred to explore music at the keyboard rather than to conform on the page. He was a great admirer of plainsong and of the vocal music of Hassus and Palestrina. He was definitely the founder of the modern school of composition that led to Stravinski and Messiaen.
He died of cancer of the colon in March, 1918 and one of his last pieces of music was (translation) "The Christmas of children who no longer have a home". He made his last public appearance with his violin sonata in Paris, May 1918.
Essential Albums:
Click on album cover to buy.