Home
|
Encylopaedia
|
Composers
| APHEX TWIN
APHEX TWIN (1971-)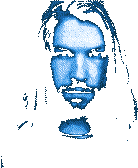 Aphex Twin aka Richard D. James was born in Ireland on the 18th August 1971 but grew up in Cornwall where he began his musical career playing DJ sets at raves/parties in Cornwall during the early 1990s, influenced by Acid House music. His first recordings were carried out when he was only 14. He also became interested in music while studying at Kingston Polytechnic. His releases include "Aphex Twin" EP (1991) on the Mighty Force label, "Anologue Bubblebath" EP (1991) with Tom Middleton and his first major single "Didgeridoo" (April 1992) on R&S records which reached no. 55 in the UK charts. This was followed with "Xylem Tube" EP (June 1992) and the album "Selected ambient works '85-'92" (November 1992).
The year 1992 also saw the formation of James's Rephlex Label with Grant Wilson-Claridge, releasing the "Joyrex" series of singles as Caustic Window. He was also approached by different artists for his remixing abilities such as St. Etienne, The Cure, Jesus Jones, Meat Beat Manifesto and Curve. In 1993 he signed to the British Warp Records label and his "On" single in December reached the no.32 position in the UK charts. He toured with Orbital and Moby during the same year. His next album "Ambient Works, Vol.2" (1994) reached no.11 in the UK album charts and gave Aphex Twin a record deal with Sire.
In 1995, James released his "Classics" album, a compilation of his earlier work. This was followed with "I Care Because You Do" (1995) and "Richard D. James Album" (1996). Aphex Twin has released work under different guises such as Caustic Window, GAK, Blue Calx, the Dice Man and PCP. He has also experimented in building his own synthesisers.
Essential Albums:
Click on album cover to buy.

Discography:
Analogue Bubblebath III (1992)
Selected Ambient Works 85-92 (1993)
Selected Ambient Works, Vol.2 (1994)
I Care Because You Do (1995)
Richard D.James Album (1996)