Home
|
Encylopaedia
|
Composers
| DOORS
The DOORS (1965-1973)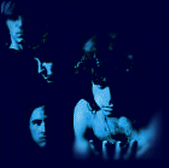 The Doors were formed in Los Angeles in 1965 and included the members Jim Morrison (born 1943) and Ray Manzarek who were at film school together at the University of California, as well as Robbie Kreiger and John Densmore. They took the name Doors from The Doors of Perception by Aldous Huxley and from the William Blake quotation "There are things that are known and things that are unknown; in between are doors".
They started out playing regular gigs at the Whiskey-A-Go-Go club however their onstage antics often got them fired. Their permanent firing occurred over the lyrics to "The End". While they were there however, they played alongside The Byrds and Van Morrison's Them and impressed enough people such that Jac Holzman of Elektra Records had to fend off Frank Zappa and Columbia Records in his bid to sign the band.
Their debut album which reached no.2 was "The Doors" (1967) with the addition of Doug Labahn on bass. Their success lay in Morrison's poetic lyrics, much of which he had written years before, backed by blues influenced rock music. Their first single was "Break on Through" which did not reach the top 100. "Light my Fire" was released as a second single which reached the US no.1 and remained there for 3 weeks. Other tracks on the album were "The Crystal Ship", " The End" and "The Alabama Song".
Their second album was "Strange Days" (1967) which did not do as well as their first album. It included the tracks "Unhappy girl", the spoken "Horse Latitudes" and the singles "Love me Two Times" and "People are strange", neither of which made the top 10.
Labahn was replaced by Leroy Vinegar on bass for their third album "Waiting for the Sun" (1968) which reached no.1 in the US album charts. It contained the single "Hello I love you" which reached the US no.1 and other tracks include "Five to One" and "The Unknown Soldier" which was also released as a hit single in 1968.
They spent a period touring and Morrison became more outrageous as the tours progressed; soaking himself in alcohol, demonstrating emotional outbursts and displaying mock sex acts and profanities. He was also known to destroy recording equipment in the studio on a regular basis. During late 1968, Morrison was arrested for using obscene language and starting a riot. On March 1st 1969, he was arrested again during a gig in Miami, Florida when he exposed himself to an audience of 13,000 people and jumped into the audience. He was charged with lewd and lascivious behaviour. In 1970 a jury found him guilty of indecent exposure and profanity but innocent on a felony count of lewd and lascivious behaviour and a misdemeanour charge of drunkenness. He was freed on appeal.
Their next album was "The Soft Parade" (1969) which was their poorest effort to date, however it did contain tracks such as "Touch Me". Their next album was "Morrison Hotel" (1970) which included blues bass by Lonnie Mack, followed by "Absolutely Live" (1970). "L.A. Woman" was released in 1971 featuring Jerry Scheff as bassist and containing the single "Riders On The Storm" which did well on both sides of the Atlantic. The band toured later on in the year which was to be their last.
In March 1971, Jim Morrison and his girlfriend (by now wife) Pamela moved to Paris to start a new life and to try and rid themselves from their drug and alcohol problems. On July 3rd, he was found dead in his bathtub, aged twenty seven, by Pamela. The death certificate stated that he had died of natural causes - a heart attack. He died before his legal problems were fully resolved. No service was carried out at his burial. Pamela died of a heroin overdose in 1974.
The Doors kept going for two more albums without Jim Morrison, "Other Voices" (1971) and "Full Circle" (1972). Manzarek then went on to pursue solo projects and the others formed The Butts Band. The members got back together in 1978 to record "An American Prayer" using a selection of poetry from Morrison's collection.
A compilation of the Door's Greatest Hits was issued in 1981 which went gold. Oliver Stone's film "The Doors" was released in 1991, with Val Kilmer playing Jim Morrison. A tribute band, The Australian Doors has recently emerged which attempts to recreate the live performances.
Essential Albums:
Click on album cover to buy.
Discography:
The Doors (1967)
Strange Days (1967)
Waiting For The Sun (1968)
The Soft Parade (1969)
Absolutely Live (1970)
Morrison Hotel (1970)
L.A. Woman (1971)
Other Voices (1971)
Full Circle (1972)
American Prayer (1978)
Alive, She Cried (1983)
Live in Europe (1990)
In Concert (live) (1991)