Home
|
Encylopaedia
|
Composers
| DVORJ?K
Antonin DVORJ?K (1841-1904)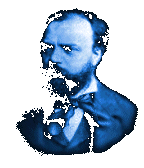 Dvor?k was a Czech composer born in Nelahozes on the 8th September, 1841, who together with Smetana founded the Czech Nationalist school. As a child he showed talent as a violinist and went to study music at the age of sixteen at the organ school in Prague. From 1863 he played under Smetana at the Prague National Theatre as a viola player. Like the rest of Europe, he was passionately affected by Wagner as is seen in his first opera "Alfred" (1870). He played in the Prague orchestra conducted by Wagner and was heavily influenced by him.
In 1873 he married Anna Cerm?kov?, organist of St. Adalbert in Prague. His first major success came with his cantata "Hymnus" (1873) and his "Moravian duets" (1876). His works began to be performed in the early 1870s and he received a government stipend due to his 3rd symphony "Symphony in Eb" (1876) which won an Austrian national prize. He received much encouragement from Brahms as a result of this award.
In 1884 he made his first visit to England and his music became very popular almost overnight. He won commissions for an oratorio for the Leeds festival "St. Ludmilla", a cantata for the Birmingham festival "The Specter's Bride" and a new symphony for the Philharmonic "No. & in D minor". Cambridge made him an Honorary Doctor of Music in 1891 and during the same year he became professor of composition at the Prague Conservatory.
In 1891 he was invited to New York by Jeannette Thurber. From 1892-1895 he became director of the National Conservatory in New York, where he wrote much well known works including the symphony "From the New World", his "Biblical songs" and string quartet "Op.96" (1893). His work became influenced by Negro and Indian melodies and by his deep homesickness. He became successful in incorporating pentatonic melodies into his diatonic based works. He returned to Prague in 1895, becoming director of Prague Conservatory in 1901.
His many works included nine symphonies, choral works, operas, chamber music, songs and dances. Czech and other Slavic folk music inspired some of Dvor?k's themes as can be heard in his first mature symphony "No.6 in D" (1880). Some of his best work can be seen in his Slavonic Dances (1878, 1886) where he shows outstanding melodic genius unfettered by the demands of traditional forms. Later on in his career, with his last two symphonies (1889, 1893) and his "Cello Concerto" (1895) he rids himself from Wagnerian influences and shows himself as an individual and unique composer. His final years were devoted to opera, "The Jacobin" (1897) and "Rusalka" (1900). He died in Prague in 1904.
Essential Albums:
Click on album cover to buy.