Home
|
Encylopaedia
|
Composers
| DYLAN
Bob DYLAN (1941-)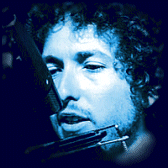 Bob Dylan was born Bob Zimmerman in Hibbing, Minnesota on the 24th May 1941. He changed his name out of admiration for the welsh poet Dylan Thomas while at college. Dylan was probably the most important figure in the protest renaissance of the 1960s and he has been known to create controversy. He was heavily influenced by Woody Guthrie, with whom he later became friends. Bob Dylan's other early influences include B.B. King, Chuck Berry, Howlin' Wolf and Jimmy Reed. Dylan did not have a particularly good voice, however his grating vocals suited his style of guitar-playing with touches of harmonica. His protest songs include such subject matter as intolerance with reference to war, death and wrong doings.
In 1959, Dylan enroled at the University of Minnesota in Minneapolis and began to play at a coffehouse called the Ten O'Clock Scholar. In 1960, he dropped out of school and hitch-hiked to New York to meet Guthrie where Pete Seeger took the young Dylan under his wing. Within two months of being in New York, Dylan's career took off. He met Albert Grossman who would later become his manager and he was discovered by Columbia Records executive, John Hammond. He recorded his first album "Bob Dylan" on November 20th - 22nd 1961 containing the tracks "Song to Woody". This album didn't do too well however, selling less than five thousand copies. During this period his girlfriend Suze Rotolo also abandoned him and it was their stormy relationship that inspired such songs as "Don't Think Twice, It's Alright" and "One Too Many Mornings".
Dylan's next album was "Freewheelin' Bob Dylan" in 1963 which was much more successful. He was now back with Rotolo and was also becoming involved with the folk singer Joan Baez. The same year saw him perform at the Monterey Folk Festival in May and the Newport Folk Festival. His third album "The Times they are a-changin'" was released in January 1964. He started to become commercially successful after he signed with Albert Grossman. Both his second and third albums remained on the best-seller lists for many weeks.
As well as recording albums, Dylan was still a regular performer at various coffee houses in New York, where he became a cult hero for the then booming folk-scene. Some of his compositions were also played by other artists, such as "Blowin' in the wind" by Peter, Paul and Mary and "Mr. Tambourine Man" by the Byrds. In 1964, at the Newport Folk Festival, Dylan performed his "Mr. Tambourine Man" and "It Ain't Me, Babe" for the first time.
Throughout his musical career, he has frequently changed his style and subject matter which has not always gone down too well with his fans. After the folk scene began to wane, Dylan changed his style to accommodate a more folk-rock style. During the 1965 Newport Folk festival, he performed an electric set with a backing band consisting of Paul Butterfield, Mike Bloomfield, Jerome Arnold and Sam Lay. This was his last appearance at the Newport Folk Festival. Albums he released at this time include "Another side of Bob Dylan" (August 1964), "Highway 61 Revisited" (1965), "Bringing it all back home" (1965), "Blonde on Blonde" (1966) and "Bob Dylan's greatest hits" (1967).
His first single to hit the U.S. charts was "Subterranean Homesick Blues" in March 1965 which reached no. 39 and during the same year, he also had a hit with "Like a Rolling Stone" which reached no.2. Other best selling singles of his career include "Positively 4th street", "Rainy Day Women nos.12&35", "I want you", "Just like a woman" and "Lay lady lay".
In 1966, after spending time recuperating after an accident, Dylan emerged yet again with a different musical style with country & western mixed with rock & roll. Albums which reflect this style include "Nashville Skyline" and "John Wesley Harding". During the 1970s, he again experimented with different styles and albums to emerge at this period in time include "Self-Portrait" and "New Morning" in 1970.
During the 1970s, Dylan published "Writings and Drawings by Bob Dylan" and also acted in a couple of films. In 1974, he toured America backed by the Band. In 1975, he released "Blood on the Tracks" and "The Basement tapes". "Desire" was released early in 1976 and "Street Legal" was released in 1978. His album "Slow train Coming" in 1979 was unexpected in that it reflected his conversion to christianity. This resulted with mixed feelings among his fans and his tour in 1979 was met with empty seats.
In 1981 saw the album "Shot of love" followed in 1983 by "Infidels". By 1983, Dylan had renounced his christian faith. In 1985, he appeared in the Live Aid concert in Philadelphia. In 1986, ASCAP (American Society of Composers, Authors and Publishers) gave Dylan the founders award.
Essential Albums:
Click on album cover to buy.



Discography:
Bob Dylan (1962)
The Freewheelin' Bob Dylan (1963)
The Times They Are A-Changin' (1964)
Another Side Of Bob Dylan (1964)
Bringing it All Back Home (1965)
Highway 61 Revisited (1965)
Blonde on Blonde (1966)
John Wesley Harding (1967)
Nashville Skyline (1969)
Self Portrait (1970)
New Morning (1970)
Pat Garrett & Billy The Kid (Soundtrack) (1973)
Dylan (1973)
Planet Waves (1974)
Before The Flood (live) (1974)
Blood on the Tracks (1975)
The Basement Tapes (1975)
Desire (1976)
Hard Rain (live) (1976)
Street-Legal (1978)
Slow Train Coming (1979)
At Budokan (live) (1979)
Saved (1980)
Shot of Love (1981)
Infidels (1983)
Real Live (1984)
Empire Burlesque (1985)
Knocked Out Loaded (1986)
Down in the Groove (1988)
Dylan & The Dead (live) (1989)
Oh Mercy (1989)
Under The Red Sky (1990)
Good As I Been To You (1992)
World Gone Wrong (1993)
MTV Unplugged (1995)
Time Out of Mind (1997)