Home
|
Encylopaedia
|
Composers
| ELGAR
Sir Edward ELGAR (1857-1934)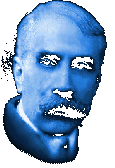 Elgar was a British composer born in Broadheath near Worcester, who received no formal music training as a boy. He was the son of a piano tuner and a music teacher who was mainly self-taught and he acquired various skills throughout his career. He had hoped to go on to study at the Leipzig Conservatory on leaving school but his father could not afford to send him. Even so, by his mid teens he was able to make a living as a violinist, organist, bassoonist, conductor and music teacher around Worcester. With his brothers, he formed a wind quintet, for which he composed several works and he also played the violin in several local orchestras or chamber groups.
Until the age of 33 he wrote little that was successful and moved to London to try his luck. He had a few pieces published but nothing big so after a year he moved back to Malvern. He had a very unique and recognisable style which was to be called "Elgarian". His strength lay in orchestration which has often been stated that it rivalled that of Strauss and his harmonic innovations of Liszt and Wagner led him to success in Germany especially with his first Symphony (1908) and "The Dream of Gerontius" (1900). The English system of music festivals enabled his music to be performed in England.
His works include the overture "Froissart" (1890) which he wrote for the 3 Choirs Festival at Worcester, the choral work "The Black Knight" (1893), "King Olaf" (1896), "Light of Life" (1896), "Scenes from the Bavarian Highlands" (1896), and "The Banner of St. George" (1897). He also wrote the very successful "Enigma Variations" (1899) with 14 variations, "Apostles" (1903) and "The Kingdom" (1906). In 1897, Elgar composed the "Imperial March" for Queen Victoria's Diamond Jubilee. It's success led to the commission for the large-scale Cantata "Caractacus" (1898). This in turn won him a commission to write the oratorio for the Birmingham Triennial Festival of 1900 "The Dream of Gerontius" (1900) based on Cardinal Newman's poem on death and the transport to heaven. Within 18 months of the festival, the work had been performed in the United States and in Germany.
Strauss hailed Elgar as the foremost English composer of the day, describing him as "the first English progressivist" and he was also admired and supported by the musician Hans Richter. There developed an Elgar vogue on the continent with conductors such as Weingartner, Strauss, Steinbach, and Busoni including his works in their programmes. 1901 to 1914 were the most successful years for Wagner. Works composed during this period include "Cockaigne" (1901), the oratorios "The Apostles" (1903) and "The Kingdom" (1906), two Symphonies, "Violin Concerto" (1910), "Cello concerto" (1919) and "Falstaff" (1902 - 1913) based on Shakespeare's character.
His "Symphony No. 1" (1908) was so successful that it was performed one hundred times in different places in just over a year and his number one of a set of "Pomp and Circumstance" marches caught the attention of King Edward VII. He suggested that it be put to words and in 1902, it emerged in the "Coronation Ode" as "Land of Hope and Glory". Elgar was knighted in 1904 and became a member of the Order of Merit in 1911. In 1912 he moved back to London.
During 1914 - 1918, Elgar composed several patriotic works including "The Spirit of England" (1915). He also wrote incidental music for a children's play "The Starlight Express" (1915) and a ballet "The Sanguine Fan" (1917). Between 1918 to 1920, he wrote three chamber works, a violin sonata, string quartet, piano quintet and a cello concerto. These were to be his last major works.
Elgar was a pioneer in his recognition of the importance of the gramophone and was the first composer to record a large part of his output which are important historical documents. The most celebrated is the recording of the violin concerto in 1932 with the sixteen year old Menuhin. He was a very private person and with World War I and the death of his wife in 1920, his last years were largely unproductive. What music he did produce was concocted from previous material. He was working on a Ben Jonson opera "The Spanish Lady" and a third Symphony at the time of his death. He died in Worcester in 1934.
Essential Albums:
Click on album cover to buy.