Home
|
Encylopaedia
|
Composers
| EMERSON, LAKE AND PALMER
EMERSON, LAKE AND PALMER (1970-1979)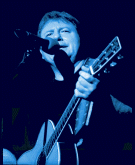 Emerson, Lake and Palmer (ELP) comprised Keith Emerson (keyboards), Greg Lake (vocals/bass) and Carl Palmer (percussion). Formerly they were members of the Nice, King Crimson and Atomic Rooster, respectively. In 1970 they appeared at the Isle of Wight festival and were signed to Island Records. Their debut "Emerson, Lake & Palmer" album (1970) re-worked classical music from Bart?k.
In 1971 at Newcastle's City Hall, they presented their arrangement of Mussorgsky's "Pictures At An Exhibition" and was followed with their highly successful "Tarkus" concept album (1971). Extensive tours and albums followed with "Trilogy" (1972), "Brain Salad Surgery" (1973) under Manticore, and "Welcome Back My Friends To The Show That Never Ends..." (1974). They set up their own label and clearly established themselves as one of the most extravagant live acts.
Emerson, Lake and Palmer each spent some time pursuing solo careers for a while during the mid 1970s. The band resurfaced in 1977 with the double album "Works" which included the dramatic reading of Aaron Copland's "Fanfare For The Common Man" and "Works Vol. 2", both under Atlantic. The "Love Beach" album followed (1978) and their final "In Concert" (1979) was released before they embarked on a world tour. By this time the music scene was shifting away from concept albums and it seemed the right time to disband ELP.
An attempt to reform the band in 1986 failed in tempting Palmer away from Asia. Emerson and Lake collaborated with drummer Cozy Powell instead to release "Emerson, Lake and Powell". Powell quit in 1987 and Palmer got together with Emerson and Lake to work on an album, however the plan didn't work out and Emerson ended up recruiting drummer Robert Berry to release "To The Power of Three". The trio re-formed in 1992 and released "Black Moon" (1992), "Live At The Royal Albert Hall" (1993) and "In The Hot Seat" (1994).
Essential Albums:
Click on album cover to buy.


Discography:
Emerson, Lake & Palmer (1970)
Tarkus (1971)
Pictures at an Exhibition (live) (1972)
Trilogy (1972)
Brain Salad Surgery (1973)
Welcome Back, My Friends, To The Show That Never Ends.. (live) (1974)
Works, Vol.1 (1977)
Works, Vol.2 (1977)
Love Beach (1978)
In Concert (live) (1979)
Black Moon (1992)
Live at the Royal Albert Hall (1992)
Works Live (1993)
In The Hot Seat (1994)
King Biscuit Flower Hour: Greatest Hits Live (1997)
Live at the Isle of Wight Festival (1997)
Live in Poland (2001)