Home
|
Encylopaedia
|
Composers
| ENO
Brian ENO (1948-)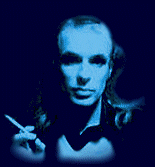 Brian Peter George St. John Le Baptiste de la Salle Eno was born in Woodbridge in England in 1948 and has had an extremely varied career. At one time he was a successful record producer of bands such as U2, David Bowie and Talking Heads. Among his other talents are composing and performing music, "art presentations", video work, and public lectures. In February 1993, he showed his artwork "The future will be like perfume" in Hamburg. In 1988, he recorded (Thinking music part IV - "Neroli") which was named after orange-blossom scent and was a piece that attempted to copy the relaxing and uplifting properties the thought of the flower could provoke. In 1992 he delivered a public lecture "Perfume, Defence and David Bowie's wedding".
Eno's first band was Merchant Taylor's Simultaneous Cabinet and he also sang in a rock band, Maxwell Demon By 1969, he was a member of the Cornelius Cardew's Scratch Orchestra, appearing on the album "The Great Learning" (1971). He also played clarinet for the Portsmouth Sinfonia, which became famous for recruiting musicians of varying technical skills from outright useless to budding prodigies. Eno later produced their albums "The popular classics" (1973) and "Hallelujah" (1974).
It wasn't long before Eno joined Roxy Music and appeared on their first two albums "Roxy Music" (1972) and "For your pleasure" (1973). He became well known for his unique synth sound and his drag outfits which often up staged the outfits of Brian Ferry which resulted in ego clashes. Eno left the band after the second album.
His first solo project involved a collaboration with Robert Fripp from King Crimson which saw the release of the album "No Pussyfooting" (1973). In this album, Eno made use of such techniques as tape-loop delays and layering of ambient sounds. The duo then released a second album "Evening Star" (1975) which contained the tracks "Wind on Water" and "Wind on Wind". Eno also released "Here come the warm jets" (1973) which reached the UK top 30. Also in 1973, he contributed to a sleeve note on Basil Kirchin's second album "Worlds within Worlds". He became the front man for the Winkies in 1974, however ill health prevented him from touring.
Picture postcards of a Chinese revolutionary opera inspired him in his "Taking Tiger Mountain (by strategy)" album (1974) and he also started writing lyrics on tracks such as "The Great Pretender" and "Third Uncle". The Portsmouth Sinfonia played in his track "Put a straw under baby". In 1975, Peter Schmidt joined Eno to produce the album "Oblique Strategies", rather like a latter-day I Ching with advice on how to solve dilemmas.
In 1975, Eno was involved in a car accident and this immobilised him so he was not able to turn the volume up on his stereo while listening to 18th century "Virtuoso Harp music". The noise was drowned out by the rain and this caused him to begin thinking about incorporating music into chosen environments as if dealing with a perfume or colour tint. He recognised that music had the ability to modify or enhance moods and he thought about using music as a "paint" to colour the environment i.e. to create "Environmental music" and to think of music as space. He soon became known and respected as a pioneer of ambient music and he became interested in recording music in unusual settings in order to create atmospheres.
His first ambient album was probably "Discreet music" (1975) which became part of a ten-LP series released on his Obscure Records label. Artists such as John Cage, Penguin Cafe Orchestra, Michael Nyman and Harold Budd were all to follow on this label. Albums that followed include "Another Green World" (1975), "Before and after science" (1977), "Cluster and Eno" (1978), "After the heat" (1978), and "Music for Films" (1978). He met and produced three albums for Talking Heads "More songs about buildings and food" (1978), "Fear of music" (1979) and "Remain in light" (1980). He also collaborated with David Byrne and released "My life in the bush of ghosts"(1981).
During the 1980s, Eno's songs were emerging in many places, from the track "Another Green world" in the BBC programme "Arena" to various films such as Derek Jarman's "Sebastiane" (1976), "Jubilee" (1978), and David Lynch's "Dune" (1984). His "Apollo:Atmospheres and soundtracks" (1983) appeared in Al Reinert's documentary "For all mankind". Other LPs include "Ambient #1: Music for airports" (1978), "Ambient #2: The plateaux of mirror" (1980), "Ambient #3: Day of radiance" (1980) and "Ambient #4: On land" (1982).
Eno also collaborated with Harold Budd to give "The Pearl" (1984), with Jon Hassell in "Possible Musics" (1980) and he worked on three David Bowie albums "Low" (1977), "Heroes" (1977) and "Lodger" (1979). Other artists include Ultravox "Ultravox" (1978), Devo's "Are we not men?" (1978), Michael Brook's "Hybrid" (1985), U2's "The Unforgettable Fire" (1984) which was recorded in a castle in Dublin to create a suitable atmosphere, "The Joshua Tree" (1987) and "Achtung Baby" (1991). In 1992, both Eno and Daniel Lanois jointly won the Grammy Producer of the year award for "Achtung Baby".
Other albums followed including "Music for films III" (1988), "Wrong way up" (1990) with John Cale, "My Squelchy Life" (1991), "The Shutov Assembly" (1992), "Neroli" (1993) and "Spinner" (1995). In 1996, he received a Brit award for his production on Bowie's "Outside" album.
In 1989, Eno was also invited to compose and perform for the consecration of the Tenkawa Shinto Shrine near Kyoto.
Essential Albums:
Click on album cover to buy.



Discography:
Here Come The Warm Jets (1974)
Taking Tiger Mountain (By Strategy) (1974)
Another Green World (1975)
Discreet Music (1975)
Before and After Science (1977)
Music For Films (1978)
Ambient 1: Music For Airports (1978)
After The Heat (1978)
Fourth World, Vol.1: Possible Musics (1980)
My Life In The Bush Of Ghosts (1981)
Ambient 3: Day of Radiance (1981)
Empty Landscapes (1981)
Ambient 4: On Land (1982)
Apollo: Atmospheres and Soundtracks (1983)
Begegnungen (1984)
Thursday Afternoon (1985)
Begegnungen II (1985)
Wrong Way Up (1990)
My Squelchy Life (1991)
Nerve Net (1992)
The Shutov Assembly (1992)
Robert Sheckley's In a Land of Clear Colours (1993)
Neroli (1993)
Headcandy (1994)
The Drop (1997)
Drawn From Life (2001)