Home
|
Encylopaedia
|
Composers
| EURYTHMICS
The EURYTHMICS (1980-)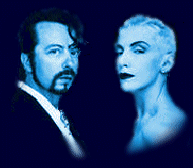 David A. Stewart and Annie Lennox together form the pop duo known as the Eurythmics, whose music has acquired world-wide acclaim.
Stewart met Lennox in London while he was working as a member of Longdancer,a folk-rock band. Lennox was studying at the Royal College of Music and waitressing in her spare time to supplement her income. They soon formed the band the Tourists, a new wave/pop affair, which despite arousing a fair amount of interest split fairly soon. There was considerable publicity about the doomed relationship between Lennox and Stewart but they continued to share their musical ideas, if not their beds, forming the Eurythmics in 1980.
The first album, "The Garden" was heavily electronic, both haunting and at the same time rigid and cold and it was not successful. Perseverance led to a minor chart success with "Love is a Stranger" and building on this success they released "Sweet Dreams". This album produced several hits and established the pair as a force to be reckoned with in the world of pop. The chart hits were well-accompanied by stylish videos (all self-produced). "Sweet Dreams" was followed by "Touch" in 1984 which was a huge success and led them on to produce the score for the film version of George Orwell's 1984. This was not judged to be their best work but was followed by the excellent "Be Yourself Tonight" which was more rock orientated and included a duet with Aretha Franklin ("Sisters Are Doing it For Themselves") and "There Must Be An Angel" which topped the UK charts.
Further albums Revenge (1986), Savage (1987) and We Too Are One (1989) consolidated their reputation both as a band and as individual talents. While Stewart often stayed in the background, putting his efforts into the songwriting and the production, Lennox became recognised as one of the foremost voices of rock and pop.
The pair went their separate ways during the 1990's with Lennox producing the solo albums "Diva" and "Medusa" and Stewart remaining involved in a variety of musical projects both as a producer and an artist.
Essential Albums:
Click on album cover to buy.

Discography:
In The Garden (1981)
Sweet Dreams (Are Made of This) (1983)
Touch (1983)
1984 (For The Love of Big Brother) (1984)
Be Yourself Tonight (1985)
Revenge (1986)
Savage (1987)
We Too Are One (1989)
Greatest Hits (1998)
Peace (1999)