Home
|
Encylopaedia
|
Composers
| FAURE
Gabriel FAURE (1845-1924)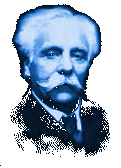 When Faure was 9 yrs old he went to the Paris music school, Ecole Niedermeyer, where he studied ecclesiastical music. This influence stayed with him throughout his later compositions. One of his teachers, Saint-Sa?ns introduced him to the works of Liszt and Wagner and the two became firm friends until Saint-Sa?ns death in 1921.
Faure began his career as an organist at Rennes and he served in the Franco-Prussian war of 1870. After the war he became organist at the Paris church of St. Honor? d'Eylau and he won two major appointments in 1896; organist at the church of La Madeleine and professor of composition at the Paris Conservatoire. As professor, Faure influenced such pupils as Maurice Ravel and Nadia Boulanger.
Essential Albums:
Click on album cover to buy.