Home
|
Encylopaedia
|
Composers
| FLASH
Grandmaster FLASH (1958-)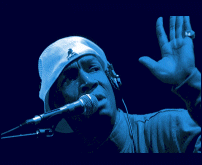 Grandmaster Flash (aka Joseph Saddler) was born in Barbados on the 1st January, 1958 and was so nicknamed due to his speed on the turntable. He quickly established himself as a pioneer of Hiphop and he developed a number of DJ'ing techniques including cutting, back-spinning and phasing. He was originally from the Bronx and started DJ'ing in High School gymnasiums before moving onto the Bronx clubs such as The Backdoor, The Dixie and the Audobon Ballroom. He formed a group with five MCs called Grandmaster Flash and the Furious Five which included DJ Flash, Cowboy, Melle Mel (a.k.a. Melvin Glover), his brother Nathaniel (Kid Creole), Duke Bootee (Ed Fletcher), and Kurtis Blow.
They originally recorded "We rap more mellow" and "Super Rappin'" as the Younger Generation. They were initially signed with Enjoy, Brass and Bozo Meko before signing to Sugarhill Records. Singles include "Adventures on the Wheels of steel", "Freedom" in 1979 and "The Message" in 1982 which was written by Sylvia Robinson and Melle Mel (aka Melvyn Glover). It became a million seller and a top 10 R&B hit although it failed to make an impression in the pop charts.
"White Lines (Don't do it)" was released in November 1983. It is perhaps the most famous anti-cocaine song and became both a huge R&B and club hit. Its first release saw it reach only no.60, however it re-entered the charts in Febuary 1984, reached no.7 and remained in the charts for 38 weeks. It was also remixed in 1994.
Flash broke with the Furious Five but later reformed for the "Gold" album on the Elektra label in 1987.
Essential Albums:
Click on album cover to buy.

Discography:
The Message (1982)
They Said It Couldn't Be Done (1985)
The Source (1986)
Da Bop Boom Bang (1987)
On The Strength (1988)
Greatest Hits (1989)