Home
|
Encylopaedia
|
Composers
| FLEETWOOD MAC
FLEETWOOD MAC (1967-)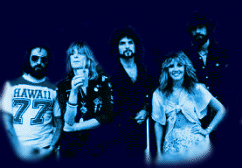 Fleetwood Mac was formed by Peter Green (vocals/guitar) and Mick Fleetwood (drums), both whom had just recently left John Mayall's Bluesbreakers and who had previously played together in 1966 with Peter B's Looners. They signed with Blue Horizon Records on the strength of their reputation. A third member in Jeremy Spencer (guitarist) and then John McVie (bassist) joined to create the original line up.
The band started off playing blues music and they made their debut at Windsor's National Jazz and Blues festival in August 1967. Their first album "Fleetwood Mac", produced by Mike Vernon, reached the UK top 5 in 1968 and stayed in the charts for 13 months. The group also had two hits with their second single, "Black magic woman" (1968) and little Willie John's ballad "Need your love so bad".
Their second album, "Mr. Wonderful" (1968) was also well received and made the top 10. This album featured contributions from Christine Perfect. A third guitarist in Danny Kirwan was added in 1968 and the band had a hit with "Albatross" (1969) which reached no.1 in the UK charts and established the group. The single reached no.2 when it was reissued in 1973. Their follow-up singles "Man of the World" and "Oh Well" both reached the no.2 positions.
During the 1970s, Fleetwood Mac abandoned blues style of music to become a more successful mainstream group. They left Blue Horizon and went on to Immediate Records, then Reprise where they released the album "Then play on".
In May 1970, Peter Green left Fleetwood Mac in the middle of a German tour after writing the song "The Green Manalishi" which became a top 10 hit. The pressure of success, touring and LSD took their toll on him and he went back to England to live as a semi-recluse. He was replaced with Christine Perfect (former Chicken Shack vocalist), who was by now married to John McVie. Song writing for the band was carried out by Kirwan and Spencer. Their fourth album was "Kiln House", however soon after in 1971, Spencer disappeared halfway through an American tour. He had joined a religious sect called the Children of God. The band were desperate to complete the tour and Green stepped in to replace him for the rest of the tour and a permanent replacement was finally found in Bob Welch.
The next two albums were "Future Games" and "Bare Trees", however neither of them were particularly well received by the UK audiences. Kirwan was dismissed in 1972 due to suffering with stage fright and was replaced with Bob Weston and Dave Walker as vocalist also joined. He, however did not stay long and did not even see the finish of the "Penguin" album through.
"Mystery to me" was the next album which was released at the same time as Weston was sacked through having a public affair with Fleetwood's wife Jenny. The band at this point in time were at a very low ebb and an American tour was cancelled causing legal battles. In 1974 Fleetwood met Stevie Nicks and Lindsey Buckingham who were both performing as Buckingham Nicks. They both joined Fleetwood Mac in 1975 as replacements for Welch. "Fleetwood Mac" (1975) was released to great acclaim and reached no.1 in the US.
The next album "Rumours" (1977) was recorded in a period where everyone seemed to be going through divorce or painful relationship breakups. It reached both UK and US no.1 positions. The album included the songs "Go your own way" which was released as a single and reached the top 10, "Don't stop" which was also released and reached the top 10, "You Make Loving Fun" which also reached the top 10, "Second hand news" and "Dreams" which was written and sung by Stevie Nicks and became their first US no.1 single. This album has sold upwards of 25 million copies and is second to Michael Jackson's "Thriller" as the best selling album of all time. It has also won a Grammy award.
"Tusk" (1979) was more experimental and was rumoured to be the most expensive album made to date and involved renting Dodger stadium for a day and booking the marching band of the University of Southern California to make a guest appearance on one track. Only five million copies of this album were sold. The following album was "Mirage" (1982) which contained four hit singles, went platinum and reached the US no.1 position. "Hold Me" became their first top 5 single in 5 years.
"Tango in the Night" (1987) was a hit but touring was not an issue due to frayed relationships between Nicks and Buckingham. Buckingham left the band and was replaced by Billy Burnette (vocals) and Rick Vito (guitar). "Behind the Mask" (1990) reached no.1 in the UK but produced no hit singles.
Nicks left Fleetwood Mac in 1990 furious at Fleetwood for including certain items in his biography. The track "Don't Stop" was used by Bill Clinton as his campaign song and he asked for Fleetwood Mac to perform it at his inauguration party in 1993. The invitation was accepted, however tension between Nicks and Buckingham were still high and no permanent reunion seemed possible. Bekka Bramlett (vocals) and Dave Mason (guitar) joined the band in 1993 and "Time" (1995) followed which did not do particularly well.
Essential Albums:
Click on album cover to buy.



Discography:
Peter Green's Fleetwood Mac (1968)
English Rose (1969)
Then Play On (1969)
Kiln House (1970)
Future Games (1971)
Bare Trees (1972)
Penguin (1973)
Mystery To Me (1973)
Heroes Are Hard To Find (1974)
Fleetwood Mac (1975)
Rumours (1977)
Tusk (1979)
Fleetwood Mac Live (1980)
Mirage (1982)
Live In Boston (1985)
London Live '68 (1968)
Tango In The Night (1987)
Live Fleetwood Mac (1988)
Behind The Mask (1990)
Boston Live (1992)
Live at the Marquee, 1967 (1992)
Time (1995)
Live at the BBC (1995)
The Dance (1997)
Live at the Boston Tea Party, Pt.1 (1998)
Live at the Boston Tea Party, Pt.2 (1998)
Shrine '69 (live) (1999)
Live! (1999)
Live at the Boston Tea Party, Pt.3 (2000)