Home
|
Encylopaedia
|
Composers
| FRANKLIN
Aretha FRANKLIN (1942-)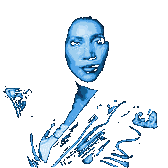 Aretha Franklin was born on the 25th March 1942 in Memphis and went on to become one of the most well known and loved gospel and rythmn and blues singer who was also able to scat. She was introduced to music at a very early age with her father, the Reverend C. L. Franklin being one of America's best selling preachers. She recorded her first record "The Gospel Sound of Aretha Franklin" which included "Precious Lord" at the age of 14 and had her first chart success at the age of 20.
She signed to Columbia in 1960 and during the six years she was signed to Columbia, Franklin recorded 10 albums. She achieved a couple of moderate hits with "Today I Sing The Blues" (1960) and "Rock-a-Bye Your Baby With a Dixie Melody" (1961) which reached no.37 in the US charts. After Columbia, Franklin signed to Atlantic Records in 1966 and her first release was "I Never Loved a Man" (1967) which became a no.1 hit in the R&B charts and a top 10 hit in the popular charts. The B side was "Do Right Woman-Do Right Man". Within a year and a half, Franklin achieved ten top 10 R&B hits, including six no.1s and two no.2s and nine top 10 popular chart hits including the no.1 hit "Respect" which was written by Otis Redding.
"I Never Loved a Man" was the first of six gold albums for Aretha on Atlantic and won her her first of eleven Grammy awards. "Baby I Love You" was her third million selling single which was featured on her "Aretha Arrives" second album. It also included the track "(You Make Me Feel Like) A Natural Woman".
The album "Lady Soul" was released in 1968 and included "Chain of Fools" and "Good To Me as I am To You" which featured Eric Clapton on guitar. Her next release was "Since You've Been Gone" with the B side "Ain't No Way" which reached the US R&B top 10 position and the pop top 20. It was also a hit in the UK.
Aretha co-wrote "Think" with her husband Ted White. Other hits to follow were "The House That Jack Built" and "I Say A Little Prayer" which reached the UK no.4 position and gave Aretha her biggest chart success. It was written by Bacharach-David and was also a hit for Dionne Warwick a year before. Other covers include "Don't Play That Song" which reached the UK top 20, "Bridge Over Troubled Water" by Simon and Garfunkel and "Brand New Me". In all, she achieved 20 no.1 R&B hits.
"Rock Steady" and "Day Dreaming" were released in 1971 and her "Young, Gifted and Black" album was well received. Her following album was "Hey Now Hey" (1973) which contained "Angel". In 1974 she released the single "Until You Come Back To Me" which was co-written by Stevie Wonder.
Aretha left Atlantic Records in 1980 and joined Arista. Her next releases were "What A Fool Believes", "Love All The Hurt Away", "Hold On I'm Coming" and "Jump To It" which gave her her 18th no.1 hit in the black music chart. Aretha was the first female performer to be inducted into the Rock and Roll Hall of fame in 1987 and she was the first black woman to appear on the cover of Time magazine.
Essential Albums:
Click on album cover to buy.


Discography:
The Gospel Soul of Aretha Franklin (1956)
The Electrifying Aretha Franklin (1962)
The Tender, The Moving, The Swinging Aretha Franklin (1962)
Laughing on the Outside (1963)
Songs of Faith (1964)
Once in a Lifetime (1965)
Take It Like You Give It (1967)
Lee Cross (1967)
Aretha Arrives (1967)
I Never Loved a Man (The Way I Love You) (1967)
Aretha In Paris (live) (1968)
Aretha Now (1968)
Queen of Soul (1968)
Lady Soul (1968)
Aretha Franklin: Live! (1969)
I Say A Little Prayer (1969)
Soul '69 (1969)
Don't Play That Song (1970)
Sweet Bitter Love (1970)
This Girl's In Love With You (1970)
Spirit In The Dark (1970)
Live at the Fillmore West (1971)
Aretha Live At The Fillmore West (1971)
Young, Gifted & Black (1971)
Amazing Grace (1972)
Hey Now Hey (The Other Side of The Sky) (1973)
With Everything I Feel In Me (1974)
Let Me In Your Life (1974)
You (1975)
Two Originals (1975)
Sparkle (1976)
Satisfaction (1977)
Sweet Passion (1977)
Most Beautiful Songs (1977)
Almighty Fire (1978)
La Diva (1979)
Aretha (1980)
Aretha Sings The Blues (1980)
Love All The Hurt Away (1981)
Jump To It (1982)
Get It Right (1983)
Never Grow Old (1984)
Aretha's Jazz (1984)
First Lady of Soul (1985)
Who's Zoomin' Who? (1985)
Soul Survivor (1986)
Aretha (US) (1986)
One Lord, One Faith, One Baptism (1987)
Aretha (import) (1988)
Through The Storm (1989)
What You See Is What You Sweat (1991)
Jazz To Soul (1992)
Unforgettable: A Tribute to Dinah Washington (1995)
Love Songs (Rhino) (1997)
A Rose Is Still A Rose (1998)
You Grow Closer (1998)