Home
|
Encylopaedia
|
Composers
| FRIPP
Robert FRIPP (1946-)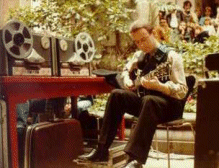 Robert Fripp was born in Wimbourne in Dorset in 1946 and is best known for being on the cutting edge of experimental music. He headed in a totally different direction from the mainstream when it came to playing rock guitar, using acoustic and electric guitars to create textured, often distorted, passages combined with flowing unrestricted playing that benefited from his extensive study of chord structure and harmony. During the mid 1960s, Fripp played with The League of Gentlemen, a backing group for touring American singers in the UK. He also played with Peter and Mike Giles as Giles, Giles and Fripp and released one album "The Cheerful Insanity of Giles, Giles and Fripp" in 1968.
This trio evolved into King Crimson and it was as the guitarist with King Crimson that Fripp first began to attract attention. The first album "In the Court of the Crimson King" was released in 1969 and Fripp played with them until their demise in 1974. Whilst still playing with King Crimson, Fripp pursued several solo projects such as two albums with Brian Eno, "No Pussyfooting" (1972) that included the two tracks "The Heavenly Music Corporation" and "Swastika Girls" and "Evening Star" (1974). While working with Brian Eno he coined the phrase Frippertronics for his technique of layering multiple guitar tracks using two revox tape units to act as a backdrop for his solo playing. He also used the Fripp pedalboard and made much use of Eno's VCS3 synthesiser. Since leaving King Crimson he has continued to be involved in a number of different solo and collaborative projects, continually breaking new ground and reinforcing his distance from the mainstream of rock music.
As well as releasing the solo album "Exposure" (1979) he has also produced recordings with "The League of Crafty Guitarists" - a project created with students from the 'Guitar Craft' course at Claymont Court in West Virginia produced Keith Tippett's "Septober Energy" album and Robert Wyatt's Matching Mole's "Little Red Record". He produced a joint album "Cosmic children of rock" (1972) with Walli Elmark which was never released. The Eno/Fripp partnership lasted for a decade with many tours and live gigs performed. Fripp also played guitar on Eno's "Another Green World" album (1975) as well as contributing to David Bowie's "Heroes" (1977). Not long after, Fripp produced and played on Peter Gabriel's second self-titled album in addition to Daryl Hall's "Sacred Songs".
In 1979, Fripp released his first solo album "Exposure" followed with "God Save the Queen/Under Heavy Manner" the following year. During the 1980s he moved to New York where he hung out with members of Blondie. He also worked with David Bowie again on "Scary Monsters" (1981) and he brought together a new line up of King Crimson. He toured in 1981 with The League of Gentlemen featuring Barry Andrews and Sarah Lee. The album "Let the power fall" was released in 1981, followed by a collaboration album with The Police guitarist Andy Summers - "I Advance Masked" (1982). He began a relationship with Toyah Wilcox (they would soon marry) and produced two albums with her "The lady and the tiger" (1986) and "Network" (1987). The new line up of King Crimson disbanded in 1984.
During the 1990s, Fripp continued teaching guitar and he also recorded with various ambient/trance bands such as The Orb's Alex Patterson as FFWD>>, Future Sound of London and has played with No-Man and the Grid. He has also collaborated with David Sylvian on Zeitgeist dance ryhthms as in "Damage" (1994) and has played with yet another version of King Crimson which he formed in 1994. In 1995 King Crimson released the album "Thrak". As part of the New music/New media London festival in 1996, he also performed a day-long ambient work of Soundscape guitar treatments. In 1997 he released "That Which Passes". Since 1994, Fripp has run his own label - Discipline Global Mobile.
Essential Albums:
Click on album cover to buy.



Discography:
No Pussyfooting (1973)
Evening Star (1975)
Exposure (1979)
God Save The Queen/Under Heavy Manners (1980)
League of Gentlemen (1981)
Let The Power Fall (1981)
I Advance Masked (1982)
Bewitched (1984)
Network (1985)
God Save The King (1985)
The League of Crafty Guitarists Live (1986)
Kings (1993)
The Bridge Between (1994)
1999 Soundscapes: Live in Argentina (1994)
Intergalactic Boogie Express (live) (1995)
A Blessing of Tears: 1995 Soundscapes, Vol.2 (live) (1995)
That Which Passes: 1995 Soundscapes, Vol.3 (live) (1996)
Radiophonics: 1995 Soundscapes, Vol.1 (live) (1996)
November Suite: 1996 Soundscapes (1997)
The Gates of Paradise (1998)