Home
|
Encylopaedia
|
Composers
| FSOL
FSOL (1991-)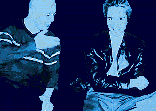 Future Sound of London (FSOL) was formed in 1991 with Gary Cobain and Brian Dougans. They were initially called Stakker and had an initial club hit with "Humanoid" in 1988. Their main sound initially was a blend of hip hop, dance floor, underground house music and techno but they gradually became more ambient as time progressed. They released material under different guises such as Mental Cube, Humanoid, Semi Real, Yage, Smart Systems and Indo Tribe.
Their first FSOL album was "Accelerator" (1991) which was heavily dance-orientated. In 1992 they released "Papua New Guinea" which attracted the attention of Virgin who signed them up. In 1994 the album "Lifeforms" was released which used the vocals of Cocteau Twin's Liz Frazer combined with cleverly layered organic samples and included the tracks "Dead Skin Cells", "Cerebral" and "Spineless Jelly". FSOL are well known for playing live gigs down ISDN digital phone lines in 1994 and in 1995 they released these gigs as "ISDN" on Virgin.
Essential Albums:
Click on album cover to buy.


Discography:
Accelerator (1991)
Lifeforms (1994)
ISDN (1994)
Dead Cities (1996)