Home
|
Encylopaedia
|
Composers
| GABRIEL
Peter GABRIEL (1950-)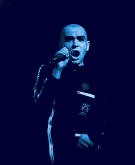 Peter Gabriel started his musical career in a school band called the Garden Wall with Tony Banks before going on to form Genesis. He even turned down a place at film school so that he could pursue a career in music. As Genesis rose in popularity, Gabriel became the focal point as lead singer, composer and lyricist. He gradually became more experimental in both his costumes on stage and his music. He left Genesis in 1976 to concentrate on solo projects.
His first set of solo albums contained a set of three each titled "Peter Gabriel", all of which went unnoticed in the USA. The first was also referred to as "Rainy Windshield" or "Car" (1977) due to the album cover design and contained the single "Sosbury Hill". The second album (1978) was produced by Robert Fripp and contained no singles. The third (with the melting face cover design) was released in 1980 and reached no. 30 in the US album charts and the single "Games Without Frontiers" hit the UK top 5. Gabriel's third album made much use of the Fairlight CMI computer controlled synthesizer.
His fourth album entitled "Security" went gold and his "Shock the Monkey" single earned him a grammy nomination. Other albums to follow included "Peter Gabriel/Plays Live" (1983) and his soundtrack to Alan Parker's film "Birdy" (1985). His platinum selling "So" was released in 1986 containing the singles "Sledgehammer" and "Big Time". It reached no.1 in the UK and no.3 in the US. Gabriel toured with "So" and he also took part in the 1986 U.S. Conspiracy of Hope Tour with U2, Sting and Brian Adams and the 1988 Human Rights Now! tour with Sting, Bruce Springsteen, Tracy Chapman and Youssou N'Dour.
Gabriel founded WOMAD (world of music,arts and dance) after gaining inspiration from working with a variety of African artists. He also launched his own World Music Record label and space-age studio, both named Real World. "Passion" (1989) was his first album to be released under Real World. The album was also a film score for Martin Scorsese's "Last Temptation of Christ" film. It won Gabriel a Grammy for Best New Age Recording and a nomination for Best original score. Every year Gabriel hosts musicians from around the world at his studios for seven days of creative synergy known as Real World Recording Week.
His greatest hits collection "Shaking The Tree - 16 Golden Greats" was released in 1990 and "Us" followed in 1992 which went to no.2 in the US. Gabriel was the first to win back-to-back Grammys for Best Short Form Music Video with "Digging in the Dirt" (1992) and for "Steam" (1993).
Gabriel is an active contributor to a number of humanitarian organisations. In 1992 he co-founded the Witness Programme, an international human rights organisation that donates technological equipment to help documant and prove abuse and torture.
Essential Albums:
Click on album cover to buy.



Discography:
Peter Gabriel (1) (1977)
Peter Gabriel (2) (1978)
Ein Deutsches Album (1980)
Peter Gabriel (3) (1980)
Deutsches Album (1982)
Security (1982)
Peter Gabriel/Plays Live (1983)
Birdy (1985)
So (1986)
German Version (1988)
Passion (1989)
Slowburn (live) (1989)
Us (1992)
Secret World Live (1994)
OVO: Millennium Show (2000)