Home
|
Encylopaedia
|
Composers
| GENESIS
GENESIS (1967-)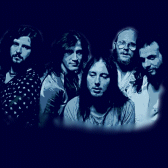 Genesis was formed in Surrey, UK in 1967 and included the members Tony Banks, Mike Rutherford, Peter Gabriel, Anthony Phillips and Chris Stewart on drums. Gabriel and Banks had previously been in a band together called the Garden Wall and Rutherford and Philips had also been in a band together called Anon. The two groups gradually merged together to form the New Anon and they recorded a demo tape. Jonathan King renamed them Genesis and with help from him, Genesis signed to Decca and released their first two singles "The Silent Sun" and "A Winter's Tale" (1968). Stewart left and was replaced with John Silver.
Their debut album "From Genesis to Revelation" (1968) did not achieve great commercial success and Decca lost interest not long after. Silver left the band and was replaced with John Mayhew. Not to be deterred, Genesis soon caught the attention of Tony Stratton-Smith and they were signed to the Charisma label. Their next album "Trespass" (1970) made use of more experimental song structures and lyrics.
Phil Collins and guitarist Steve Hackett replaced Philips and John Mayhew and the band embarked on a tour in 1971. Gabriel began to use theatrical props in his live acts, however he broke his ankle during the tour so the band took time out to record "Nursery Cryme" (1971) which reached the UK top 40. Their next album was "Foxtrot" (1972) which included the tracks "Supper's out" and "Watcher of the Skies" and reached no.12 in the UK album charts.
They released their first live album "Genesis Live" (1973) after more tours which reached the top 10 in the UK, followed by "Selling England by the Pound" (1973) which reached no.3 in the UK and contained their first chart hit "I know what I like (in your wardrobe)". Their double album "The Lamb Lies Down On Broadway" was released in 1974 and in 1975, Gabriel announced that he was leaving Genesis.
Phil Collins took over as lead singer following Gabriel's departure and the album "Trick of The Tail" was released in 1975 which reached no.3 in the UK album charts and no.31 in the US charts. "Wind and Wuthering" followed in 1977 which was also a success. Just before the release of their double live "Seconds Out" album (1977), Hackett announced his intentions to leave the band and he was replaced by Daryl Steurmer on the tour. Other albums to follow include "And Then There Were Three" (1978), "Duke" (1980), "Abacab" (1981) and "Genesis" (1983).
Essential Albums:
Click on album cover to buy.


Discography:
From Genesis To Revelation(1969)
Trespass (1970)
Nursery Cryme (1971)
Foxtrot (1972)
Genesis: Live (1973)
Selling England By The Pound (1973)
The Lamb Lies Down on Broadway (1974)
Trick of The Tail (1976)
Wind & Wuthering (1976)
Seconds Out (1977)
And Then There Were Three (1978)
Duke (1980)
Abacab (1981)
Three Sides Live (1982)
Genesis (1983)
Invisible Touch (1986)
We Can't Dance (1991)
Calling All Stations (1997)