Home
|
Encylopaedia
|
Composers
| BACH
Johann Sebastian BACH (1685-1750)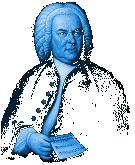 Johann Sebastian Bach was born in Eisenach on 21st March in 1685 but was not especially famous outside Germany during his lifetime. His father was an organist and town musician but Bach was orphaned at the age of ten and went to live with his brother Johann Cristoph who was also an organist. In 1700 he became a chorister at St. Michael in L?neburg. He was taught klavier and organ and continued his study of organ becoming organist at the New Church in Arnstadt and in the Kapelle of the Duke of Saxe-Weimar in 1708, a year after he had married his cousin Maria Barbara Bach. The Duke greatly admired his playing. As well as being a virtuoso organist he was also composing at this time and produced some of his finest church cantatas during his nine year stay. Many of his organ works were also written at Weimer. Bach fathered six children during this period, two of whom were to later become composers in their own right, Wilhelm Friedemann (b. 1710) and Carl Philip Emanuel (b. 1714).
In 1713 he applied for a post as organist at Halle but received a salary increase so stayed at Weimer. In 1717 he applied to the Duke for his release from service, however the Duke sent him to prison for four weeks before dismissing him. He was appointed Kappellmeister at the court of Anhalt-Cothen the same year where he composed less religious and more instrumental works including his Brandenburg Concertos (1721). This work needed only thirteen players as the available players to him were limited. His new employer, Prince Leopold was a kinder employer and was a music lover. The two became good friends and Bach's main duty was to compose music for the Prince's entertainment.
His first wife died in 1720 and in 1721 he married Anna Magdalena Wilcken, the daughter of the court trumpeter and herself a singer at court. She bore him thirteen children and again, two went on to become composers themselves, Johann Christoph Friedrich (b. 1732) and Johann Christian (b. 1735). When the Prince himself married, Bach's importance at court decreased as the Prince's new wife was not a music lover. He wrote much of his chamber and orchestral work while at C?then. In 1722 he wrote the "Well Tempered Keyboard" which was a series of Ppreludes and fugues for the harpsichord or clavichord, one in each of the 24 keys, major and minor. It was designed to demonstrate that an instrument could be tuned to play efectively in every key. Bach wrote another set in 1742.
Bach moved to Leipzig in May 1723 where he became Kantor of St. Thomas's school. "St. John's Passion" was one of the first pieces of work he wrote there followed with "St. Mathew's Passion" in 1727. "St. Mark's Passion" is mostly lost now. He performed his "Goldberg Variations" in Dresden in 1741 to one of his patrons. During the 1740s he taught privately and several of the best German organists were his pupils. In 1740 he began to have sight problems and spent the last year of his life almost completely blind. He died in the summer of 1750 after a year of ill health. His music brought him little fame or fortune during his lifetime
Bach was a prolific composer but few of his works were published during his career and some were not discovered until the nineteenth century. He was prolific in almost every area apart from opera. Bach did not create a new musical style, instead he built upon the form of other composers and perfected the styles of the fugue, chorale, cantata, mass and toccata. He was familiar with the likes of Telemann, Hasse, Pergolesi and Vivaldi. His music was dominated by counterpoint. Some critics believed that his music was rather dated and old fashioned and it wasn't until much later that his music became well loved. His music remains in the style of Baroque as it relies heavily on ornamentation, however it differs in that the music appears intellectual and abstract. He was also often criticised for his methods and for his demands of voices to sing lines as complicated as those he could play on the keyboard. He never had much time for the new fads in musical styles.
He is now well known for the styles of fugue, chorale, cantata, chorale prelude, passion, mass, suite, concerto grosso and toccata. His choral works include the "five passions" , over three hundred sacred and secular cantatas, "Mass in B minor" and several oratorios. His instrumental work includes concertos, suites and chamber works, for example "The Brandenburg Concertos". His most famous work is probably "St. Matthew Passion" (1727). He also wrote "The Well-tempered Clavier", "B minor Mass" (1749), and "The Art of Fugue (organ)" which was never finished.
Essential Albums:
Click on album cover to buy.