Home
|
Encylopaedia
|
Composers
| GOLDIE
GOLDIE (1965-)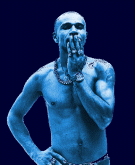 Goldie aka Clifford Price was born in Walsall in 1965. He did not have the happiest childhood being brought up in care, however he became interested in music from an early age and sought out various styles from funk to reggae. During his reggae phase, his dread locks and gold teeth brought him the nickname "Goldie Locks".
When Hip Hop started to filter through into Britain, Goldie hooked up with the Break dancing crew, the B Boys and travelled to London to see the band Africa Bambaata. During this period he started to acquire a name for himself as a talented graffiti artist. His most famous graffiti illustration is probably his "Change The World" mural at Queens Park Rangers Loftus Road Football ground in London. Later, some of his paintings would sell for over ?3,000.
He went out and lived in Miami, US for a couple of years to find his father. Back in Britain he established himself as the unofficial A & R man, producer and spokesperson at Reinforced Records. The Rave scene was also taking off in Britain at this point and he started to become a well known figure in clubs such as Heaven and Rage. The beginning of the 90s were busy for Goldie with him going on the road with Randall and carrying out the artwork for 4-Hero's reinforced label. He began to record jungle based music and his main aim was for Randall, Fabio and Grooverider to play his music.
His first recorded efforts were done under the Rufige Kru name. Songs such as "Rollin' like a Scottie" and "Manslaughter" both appeared on compilation albums and "Fury" was released in 1994. He also released an EP "Ghosts of my life". Another tune was released in 1992, collaborating under the Ajax project name, followed with "Killermuffin" and "Menace".
He came up with the term Metalheads and the Metalheadz banner became established in 1993. In 1993, he released "Terminator" which used the vocals from Diane Charlemagne and was successful. Goldie established a partnership with engineer Rob Playford and "Angel" was Metalheadz second release. By 1994, Goldie had become the unofficial spokesperson for the Jungle and Drum'n'Bass scene and his next single was "Inner City Life" which was a great success.
His debut album "Timeless" (August, 1995) was released which won him the music mags' voice of the underground. It clocked up sales of more than 100,000 and was the first drum'n'bass/jungle album to be released on a major record label. He toured America and began a relationship with Bj?rk in 1995 and had a public falling out with Tricky. He toured the UK in 1996. Other artists such as Alex Reece, Wax Doctor, Doc Scott, Hidden Agenda, and Dillinja were all starting to release music under the Metalheadz label. A collaboration with Noel Gallagher followed and he also had a joint effort with David Bowie.
"Mother" was inspired by Henryk Goreckis third symphony which he was introduced to by Bj?rk and was concerned with his abandonment by his mother. In 1998, he released "Saturnz Return" which had guest appearances from David Bowie, KRS-One, Noel Gallagher, Dillinja, Charlemagne and Virus Records' co-owner Optical (Matt Quinn).
Essential Albums:
Click on album cover to buy.
Discography:
Timeless (1995)
Saturn Return (1998)
Incredible Sound of Drum'n'Bass (1999)