Home
|
Encylopaedia
|
Composers
| GRIEG
Edward GRIEG (1843-1907)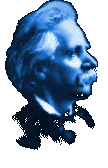 Edward Grieg was born in Bergen in Norway and grew up in a musical family learning piano from his mother. On the advice from the violinist Ole Bull in 1858, he went to study at the Leipzig Conservatory where he met Liszt who encouraged him. He did not enjoy his time at the Conservatory and while there he worked too hard and permanently damaged his health. In 1862 his "Opus 1" was published and he settled in Copenhagen in 1863 where he befriended Denmark's leading Romantic composer Niels Gade. Gade also gave him encouragement but became worried about Grieg's unwillingness to write large scale works. Under advice from Gade, Grieg wrote his one and only symphony.
In 1863 he met his cousin, the singer Nina Hagerup and the two later married in 1867. During this period in his life he started to become interested in his country's national music and he took ideas from Norwegian folk music. He was also heavily influenced by Schumann and met Rikard Nordraak who wrote Norway's national anthem. In 1865-6, he visited Rome where he composed "In Autumn" which later won the Stockholm Academy of Music prize. In 1867 Grieg and Nina settled in Oslo where he became a teacher and conductor.
His most well known work is "Peer Gynt" which he composed in 1874 on request by Ibsen for his verse-drama. "Peer Gynt" was first performed in 1876. His talent for working in miniature forms is illustrated in the poetic movements such as the mood picture "Morning". He adapted a few large scale works to his own methods of writing music and he wrote well over one hundred and twenty songs. His Piano Concerto (1868) was influenced by both Schumann and Liszt and still remains one of the most popular of all Romantic concertos. Liszt is reputed to have played the concerto straight through the first time he read the draft.
He is also well known for his shorter piano pieces which are all in the miniature forms pioneered by Beethoven and Schubert and he played many recitals with Nina as they travelled around Europe together. Nina was the inspiration and interpreter of many of his songs. They became a great favourite in England.
Grieg received an annuity from the Norwegian government in 1874 and he received an Honorary degree in music at Cambridge University in 1894 and Oxford in 1906. He also wrote ten books of Lyric pieces for piano solo. Grieg wrote no operas and made only one attempt at a symphony.
Essential Albums:
Click on album cover to buy.