Home
|
Encylopaedia
|
Composers
| GROOVERIDER
GROOVERIDER (1967-)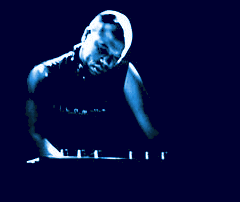 Grooverider a.k.a. Raymond Bingham was born on 16th April 1967. He has been an active DJ since the 1980s and his career has seen him working at Brixton's pirate radio station's Phase One FM with Fabio, Kiss FM and being resident DJ at Heaven for the Rage nights (in between various free parties, raves and festivals). Phase One's creator was impressed enough to invite both Grooverider and Fabio to host a new club he was opening in Brixton.
He has been involved in organising Goldie's Metalheadz club nights and regularly appears at the Metalheadz Sunday sessions at the Blue Note Club in London. He has continued to earn his reputation by playing sets at venues throughout the UK. His own record label, Prototype, was launched in the early 1990s and through this he has worked with other break-beat artists such as Photek, Ed Rush, Origin Unknown, Boymerang and Dillinja.
Grooverider has been spinning his brand of drum'n'bass for around twelve years and his recording career started later with the tracks "Sinister" and "Dreams of Heaven". "Deep Inside" was recorded under his alter ego, Codename John. His album "Mysteries of Funk" (1998) was released under the Higher Ground label with Matt Quinn and a compilation "Grooverider Presents: The Prototype Years" was released in 1997. Another album is rumoured to be following soon.
Essential Albums:
Click on album cover to buy.

Discography:
Grooverider Presents: The Prototype Years (1997)
Mysteries of Funk (1998)