Home
|
Encylopaedia
|
Composers
| HANDEL
Frederick HANDEL (1685-1759)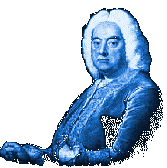 Handel was born in Halle, Germany on 23rd Febuary 1685. His father was a barber-surgeon who discouraged his son's musical learnings and tried to direct him towards a career in law. A Duke overheard Handel playing the organ at Weissenfels however and managed to persuade his father to allow him to study music. He studied both the violin and the keyboard. Handel became a composer who with Bach, represented the end of the Baroque period. He had the same social background as Bach, however Handel travelled widely during his career.
Handel wrote his first opera "Almira" (1705) before he was 20 and was invited to Italy in 1706 by a prince of the Medici family from Florence. He spent more than three years in Italy dividing his time between Florence, Rome and Venice. While in Italy he met many notable composers such as Corelli, the Scarlattis and Vivaldi. In 1710 he left Italy and went to Hanover where he was appointed Kappelmeister at the electoral court. It was during this period that he took a year out and visited London. Opera had not yet took hold in England. In 1711 he composed the first Italian style opera "Rinaldo" written specially for London. It was a huge success.
By 1712 Handel was back in London where he stayed for the rest of his life. He lived at first at the house of Lord Burlington where he composed four more operas. He also wrote the sacred vocal piece "Te Deum and Jubilate" (1713) for the performance at St. Paul's Cathedral in celebration of the peace of Utrecht. When Queen Anne died in 1714, his employer the Elector of Hanover came to London as the new King, George I.
Under King George I of England, Handel concentrated on staging Italian style operas in London. He wrote over forty-six operas and among his most well known are "Ottone", "Julius Caesar", "Rodelinda" and "Xerxes". His first two operas "Almira" and "Nero" were written and performed in Hamburg. During the 1720s and 1730s, London became one of the leading opera centres of Europe thanks to Handel. In 1720 the Royal Academy of Music was formed in London to organize and finance operas in London. Handel became it's musical director and it was his "Radamisto" opera which was the second one to be performed at the King's Theatre. Handel was involved in hiring singers from around Europe to perform in London. The Royal Academy however, wasn't managed as well as it could have been and it continued to steadily lose money and it first collapsed in 1728. A rival company, The Opera of the Nobility was also set up in London in 1733, however both opera houses finally collapsed in 1737.
The story that Handel wrote his "Water music" to curry favour with George I has not been proven. It was written for a royal party on the River and is in three parts (in keys of F, D and G). In 1723 he was appointed composer of the Chapel Royal and he wrote four anthems for the coronation of George II. Handel became a wealthy man, but was always generous as was seen when he donated all his profits from "The Messiah" to charity. He also gave an annual performance in the chapel of "The Foundling Hospital of Thomas Coram" and in 1750, he presented it with an organ.
Handel's orchestral music falls into three categories: occasional music, concerti grossi and solo concertos. He also composed biblical oratorios such as "Saul", "Samson", "Messiah" (which took little over three weeks to write) and "Jephtha". "The Water Music" and "Music for the Royal Fireworks" are among his orchestral works. The treaty of Aix-la-Chapelle was the inspiration behind the performance of the Royal Fireworks in 1749. The story goes that the rehearsal for the display was a great success and attracted many people, however the actual night was a disaster in comparison as one of the pavilions burned down and the actual firework display was unimpressive. Handel's interest in opera waned during the 1730s and he abandoned them totally in 1741 for other large scale vocal works.
He travelled widely and became an English citizen in 1727, finally dying in London in April 1759 after being completely blind for the last six years of his life. He remained unmarried and could therefore take financial risks on various theatrical enterprises. Over three thousand people attended his funeral and he was buried in Westminster Abbey.
Essential Albums:
Click on album cover to buy.