Home
|
Encylopaedia
|
Composers
| HAPPY MONDAYS
The HAPPY MONDAYS (1988-1992)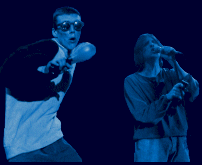 Happy Mondays were a legendary band who completely immersed themselves in the rave and drug culture of the late 1980s. Members were Shaun Ryder on vocals, Paul Ryder, Mark Day, Gary Whela, Paul Davis and Mark Berry (Bez) whose main musical contribution was to play the maracas and to dance moronically.
Their first two albums were released under the Factory label, the first, "Squirrel and G-Man Twenty Four Hour Party People Plastic Face Carnt Smile" (White Out), produced by John Cale, formerly of the Velvet Underground and the second, "Bummed" (1988), which was produced by Martin Hannett and was reputably recorded under the influence of ecstasy.
Other releases include a remix of "Wrote for Luck" (from Bummed) by Paul Oakenfold which cemented their dance sound and in December 1989, they reached the UK no. 19 with "Madchester Rave On" EP with "Hallelujah". Their biggest hit was the cover of John Kongos' "He's Gonna Step On You", retitled "Step On" which reached UK no.5 in 1990 and during the same year, they toured the US.
Their third album "Pills'N'Thrills and Bellyaches" (1990) was produced by Paul Oakenfield and marked the band's height in popularity and creativity. The album reached the UK no.1 and they had strong support from Factory Records. The band began to receive unpleasant publicity however, when Shaun Ryder admitted that he had a heroin problem.
During the recording of their fourth album in Barbados, "Yes Please" (1992), Ryder became heavily involved in crack cocaine after having recovered from heroin. The album cost over a quarter of a million pounds and nearly put Factory out of business. It was not as successful as the previous album as the band no longer had the same commercial impact as previously.
Ryder's problem with drugs created a problem with the band's career as he was no longer reliable, having reputed to have walked out of a high-level record contract meeting to obtain a fix. Various members broke from tha band during 1993. After the split in the band, Ryder and Bez soon hooked up with the Mancunian rapper, Kermit to form Black Grape. Following the break up of Black Grape, Ryder re-formed the Happy Mondays for several live dates and a new recording of Thin Lizzy's "The Boys Are Back In Town". The 1999 line up included Shaun Ryder, Paul Ryder, Bez, Gary Whela and a new member called Nuts.
Essential Albums:
Click on album cover to buy.


Discography:
Squirrell & G Man Twenty-Four Hour Party People Plastic Face Carn't Smile (1987)
Bummed (1988)
Pills 'n' Thrills & Bellyaches (1990)
Live (1991)
Baby Big Head Bootleg Album (1991)
Yes, Please (1992)