Home
|
Encylopaedia
|
Composers
| HAWKWIND
HAWKWIND (1969-)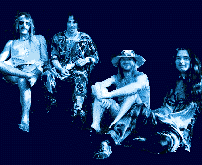 Hawkwind was formed in 1969 in Putney and consisted of Dave Brock (guitar, harmonica and vocals), Nik Turner (saxophone), Mick Slattery (lead guitar), John Harrison (bass guitar), Terry Ollis (drums) and DikMik Davies (various electronic gadgets and audio generator). They were intially called Group X before going onto Hawkwind Zoo and then Hawkwind. The lineup has constantly changed throughout the band's career starting with Huw Lloyd Langton replacing Slattery on guitar before they recorded their first single "Hurry On Sundown" in 1970. Soon afterwards, Thomas Crimble replaced Harrison on bass. They released their first album "Hawkwind" and played a gig outside the fences at the Isle of Wight Festival in 1970.
1970 also saw the exit of Langton, Crimble and Davies, to be replaced by bassist Dave Anderson and keyboardist Del Dettmar. Poet Robert Calvert became lead singer in 1971 and a dancer called Stacia also joined. The artist Barney Bubbles gave the band a fresh image and designed their album covers. Hawkwind performed at Glastonbury festival in 1971 where they caught the attention of Michael Moorcock. He started to help organise some of their gigs.
Essential Albums:
Click on album cover to buy.

Discography:
Hawkwind (1970)
In Search of Space (1971)
Appeared on Greasy Truckers (1972)
Appeared on Glastonbury Fayre (live) (1972)
Doremi Fasol Latido (1972)
Space Ritual (1973)
Hall of the Mountain Grill (1974)
Warrior on the Edge of Time (1975)
Road Hawks (1976)
Astounding Sounds, Amazing Music (1976)
Quark Strangeness and Charm (1977)
Masters of the Universe (1977)
PX-5 (1979)
Repeat Performance (1980)
Levitation (1980)
Sonic Attack (1981)
Church of Hawkwind (1982)
Choose Your Masques (1982)
Bring Me The Head of Yuri Gagarin (live) (1983)
Hawkwind Friends and Relations: Twice Upon a Time, Vol.2 (1984)
Ridicule (1985)
Hawkwind Friends and Relations, Vol.3 (1985)
The Chronicle of the Black Sword (1985)
In The Beginning (1985)
Hawkfan (1986)
Angels of Death (1986)
Live 70-73 (1986)
British Tribal Music (1987)
Xenon Codex (1988)
Zones/Stonehenge (1988)
Live Chronicles (1988)
Spirit of The Age (1988)
Text of Festival: Hawkwind Live, 1970 (1988)
Night of The Hawk (1989)
Space Bandits (1990)
Night Riding (live) (1990)
Acid Daze, Vol.1 (1990)
Acid Daze, Vol.2 (1990)
Acid Daze, Vol.3 (1990)
Palace Springs (1991)
BBC Radio 1 Live (1991)
California Brainstorm (1992)
Live '79 (1993)
Hawklords Live, 1978 (1993)
Electric Teepee (1994)
Business Trip (live) (1994)
It Is The Business of The Future To Be Dangerous (1994)
Alien 4 (1996)
Ambient Anarchists (1998)
Dawn of Hawkwind (1999)
Live at Glastonbury Festival 1990 (2000)
Spacebrock (2001)
Family Tree (2001)