Home
|
Encylopaedia
|
Composers
| BAMBAATA
Africa BAMBAATA (1960-)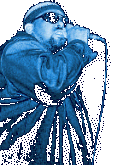 Kevin Donovan (aka Africa Bambaataa Aasim) was born in New York on April 10th in 1960 and was another of the first original "scratch mix" DJs in the mid to late 1970s, along with Kool DJ Herc. The name originated from a 19th century Zulu chief. Africa Bambaataa became well known for promoting and organizing block parties and break dancing competitions in the Bronx. His style was more eclectic than other DJs and he also recorded with artists from other disciplines such as James Brown with the track "Unity" (1984), Johnny Rotten, ex-Sex Pistol John Lydon with "World Destruction" (as Time Zone) and UB40.
He instigated the electro period of rap music with producer Arthur Baker on the Tommy Boy label and he formed a family of groups to work with, Soul Sonic Force, Shango, Jazzy 5, and Time Zone. His record debut as a producer was the single by Soul Sonic Force's "Zulu Nation Throwdown" (1980) that greatly influenced the Hip Hop style. He didn't actually record anything himself however, until 1982 with the release of his single "Jazzy Sensation". This was followed with "Planet Rock" (1982) which used the melody from Kraftwerk's "Trans-Europe Express". It reached no.4 position in the US R&B chart and has been hailed ever since as a classic. This was followed with "Looking For The Perfect Beat".
He released his LP "Shango Funk Theology" (1984) with Bill Laswell and Michael Beinhorn before releasing another single "Funk You" in 1985. Other albums include "Sun City" (1985), "Planet Rock - The album" (1986) and "Beware (The funk is everywhere)" (1986). He left Tommy Boy in 1986 and signed with Capitol. His LP "The Light" recorded as Africa Bambaataa & The Family (1988) showed him taking a different direction. It contained contributions from George Clinton, UB40, Bootsy Collins and Boy George. In 1991 he went acid-techno on his single "Just get up and dance" and he released his 3rd LP "1990-2000: Decade of Darkness" (1991).
"Planet Rock" got re-released in 1992 on the Don't Stop Remix by 808 state, LFO and Electric Musik and in 1994, Bambaataa released "What's the name" on Run DMC's profile label. In 2000, his "Hydraulic Funk" album was released, followed with "Electro Funk Breakdown" (2001).
Essential Albums:
Click on album cover to buy.

Discography:
Planet Rock - The Album (1986)
Beware (The Funk Is Everywhere) (1986)
Death Mix Throwdown (1987)
The Light (1988)
Jazzin' By Khayan (1996)
Lost Generation (1996)
Zulu Groove (1997)
Hydraulic Funk (2000)
Electro Funk Breakdown (2001)