Home
|
Encylopaedia
|
Composers
| HENDRIX
Jimi HENDRIX (1942-1970)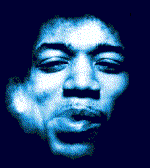 James Marshall Hendricks was born on November 27th 1942 in Seattle, Washington. He inherited Cherokee Indian blood from his mother's side and negro blood from his father's side and was exposed to music from a very early age. He was brought up in a mostly white neighbourhood and went to mostly white schools. His father encouraged him to listen to his blues and R&B records and he started playing the harmonica at the age of four.
He got his first acoustic guitar at the age of ten and his first electric at the tender age of eleven. He was entirely self taught and unable to read music. It is interesting to note that he played guitar left-handed, stringing conventional guitars upside down but wrote with his right hand. He joined the Rocking Kings while still at High School, playing rock n' roll and the top R&B hits of the day. His early influences were Muddy Waters, B.B. King and Elmore James, Buddy Guy and his spiritual father must be Charley Patton who occasionally played the guitar above his head, behind his back or between his legs. At the time of the British music invasion of America in the sixties he was finding inspiration in artists such as Bob Dylan, Pete Townsend and Eric Clapton. Much of his early work was profoundly blues-based, however later on in an interview with a west German radio station, he confessed his love of classical music such as Bach, Beethoven and Handel. He left home at fifteen but did contact his father when he became successful.
Hendrix enlisted into the army airborne division but began his career in earnest after being discharged due to a broken ankle during his 26th parachute jump. His early days were spent as a backing musician for other bands and even in his teens he had begun to develop a reputation, so much so that he even backed his idol B.B. King as well as acts such as Ike and Tina Turner, The Isley Brothers, Sam Cooke, Jackie Wilson, Wilson Pickett and Little Richard. In 1961 Hendrix was arrested for taking a motor vehicle without permission and this deed would later come back to haunt him as the FBI were later to start investigating him due to his drug use.
He soon became bored backing other musicians and bands however, as he was never allowed to express creativity or emotion in his guitar playing (more likely he upstaged most of the performers). This period was also a struggle for Jimi as he never had any money. Curtis Knight and the Squires at least did enhance his career to an extent and he obtained valuable recording experience. He would later become involved in a legal and contractual battles due to these recording sessions. His first band came after Linda Keith's (Keith Richard's girl friend) encouragement and was called Jimmy James and the Blue Flames. This band gave him the chance to start to develop his own style.
When Chas Chandler, the bassist with the Animals, saw him play "Hey Joe" in Cafe Wha in Greenwich Village in 1966, he suggested that he come to London. After initial difficulties obtaining a passport, then another problem acquiring a work permit in England, Hendrix did travel back with Chandler in September that year. His first break came when he jammed on stage with Eric Clapton and Cream in London. He was quickly and readily accepted by the small, close-knit London scene. He was still extremely conscious, however, of his singing ability and would not willingly sing lead vocals. Soon after, he was teamed up with Noel Redding (bassist) and Mitch Mitchell (drums) and reverting to his original name (with a cooler spelling) he formed The Experience.
Not long after, they recorded the Billy Roberts song "Hey Joe" with "Stone Free" as a B side and then went on tour. Chandler secured a recording contract with Track Records, however their first record was released on Polydor label due to Track records not being up and ready in time. On securing the record deal, The Experience moved to Olympic Studios in London to work on their first album "Are You Experienced" which was released in May 1967. Jimi released his complex second single, "Purple Haze" with "51st Anniversary" as a B side also in 1967. His third single, "The wind cries Mary" was also successful, which was a song concerning his girlfriend, Kathy Etchingham. Other original songs include his 4th single "The burning of the midnight lamp" (1967), "Love or Confusion", "Fire", "Foxy Lady" and "Red House".
After a T.V. appearance on "Ready, Steady Go", people outside London were beginning to be aware of Jimi Hendrix. High profile people such as John Lennon, McCartney and Mick Jagger were all fans. The New York Times described him as "the black Elvis". In 1967, he predicted that pot would be legalized in five years. Hendrix was later arrested and charged with illegal possession of narcotics in May 1969 and was bailed at $10,000.00. The FBI began to investigate his previous arrests.
During the 1967 Monterey Festival in June, Hendrix set his guitar alight during his rendition of "Wild thing". He was reputedly on l.s.d. during his performance. His "Are You Experienced" album reached no.2 while he was in California. In 1968 he released "Axis: Bold as Love" album which reached the top 5 in both the UK and US album charts. In January 1968, whilst touring with the album, relations between Jimi and Noel Redding became strained and Jimi spent a night in a Swedish jail after wrecking the hotel room. Jimi released "All Along the Watchtower" in 1968 as a tribute to Bob Dylan and this was one of the tracks found on his next album "Electric Ladyland" which reached no.1 in the US. This, the third and final album, took over a year to complete and during the sessions, Chas Chandler walked out due to frustration. He resigned as Jimi's manager. Other tracks were "Burning of the Midnight Lamp" and "Voodoo Chile". The Experience broke up shortly after the album's release.
In 1969 at Woodstock festival, his version of "The Star-spangled Banner" was a great example of political satire. After the Experience, Jimi continued to play with other artists. He jammed on stage with the Jeff Beck group at Steve Paul's Scene club in New York and he recorded a live album "The Band of Gypsies" at the Fillmore East as The Band of Gypsies with Buddy Miles on drums and Billy Cox on bass on New Year's eve in 1969. The live album's proceeds were used to pay for Jimi's contractual legal problems. Whilst touring and during their second number on the 28th January 1970, Jimi walked off stage. He also began to hang around with Mitch Mitchell again along with Larry Leeds and percussionists Juma Lewis and Jerry Velez.
During his last year of his life, his performances were not as strong as previously and he was criticised by some for not continuing with his wild man antics on stage. Although popular myth has Jimi's last live appearance at the Isle of Wight Festival in 1970, this is in fact untrue. Jimi played several other dates past that point before his death - the last possibly being at the Isle of Fehmarn in Germany. Other rumours have it that his last public appearance was at an informal jam session with ex-Animals singer Eric Burdon and his band War at Ronnie Scott's jazz club in London, two days before he died. He died, having choked on his own vomit after taking a combination of sleeping pills and red wine.
To state that it's a tragic loss to lose Jimi Hendrix at so young an age is definitely an understatement. In 1970 he was continuing on an upward creative curve and was toying with the idea of working with bigger bands and maybe collaborating with Gill Evans or Roland Kirk. He had also just built his own recording studio, the Electric Lady Studios in New York which had it's opening party on the 20th August. He had nearly completed an album with Mitch Mitchell and Billy Cox called "Cry of Love" which was released in March 1971. The unfinished tracks were completed after his death by Eddie Kramer and Mitch Mitchell. There was also talk of another new album on the way that would be so different to anything that he had done so far. Unworked tracks were reworked posthumously, however the recorded music of Jimi Hendrix was mainly jamming stuff that was erratic and unfinished. The expensive over-dubbing and re-recording only served to produce too-highly polished and unfeeling albums such as "Crash landing" and "Midnight lightning".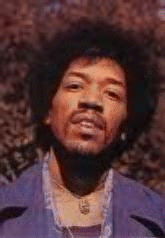 Taken on the final day of Jimi's life.
Essential Albums:
Click on album cover to buy.




Discography:
Are You Experienced? (1967)
Axis: Bold as Love (1967)
Electric Ladyland (1968)
Band of Gypsys (live) (1970)
The Cry of Love (1971)
Isle of Wight (live) (1971)
Hendrix in the West (live) (1972)
In Concert (live) (1972)
Jimi Hendrix (original soundtrack) (1973)
Hendrix 66 (live) (1975)
Hendrix Concerts (live) (1982)
The Jimi Hendrix Concerts (live) (1982)
The Concerts (1982)
Jimi Hendrix Live (1984)
Jimi Plays Monterey (live) (1986)
Live at Winterland (1987)
Radio One (1989)
The Last Experience Concert (live) (1990)
Picture Disc (1990)
Are You Experienced? (1993)
Jimi Hendrix: Blues (1994)