Home
|
Encylopaedia
|
Composers
| HOLST
Gustav HOLST (1874-1934)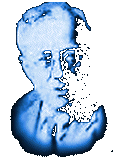 Holst was a British composer of part Swedish descent who was born in Cheltenham and who trained as a pianist. In 1892, he became organist and choirmaster of Wyck Rissington. In 1893, he composed the operetta "Lansdowne Castle", after which his father sent him to study at the Royal College of Music. Unfortunately, he suffered from chronic neuritis in his arm which hindered his piano playing.
Holst was a great friend of Williams and they both taught as well as composed. He developed a boldly experimental style of music using polytonality. His interest in oriental philosophy led him to learn Sanskrit and to translate settings of the Hindu scriptures such as in "S?vitri". He also wrote his tone poem "Egdon Heath" (1927), the choral work "Hymn of Jesus" (1917) and his earlier works include "Cotswolds Symphony" and "Somerset Rhapsody" (1906). The chamber opera "Savitri" (1908) and "Japanese Suite" (1915) for Orchestra are also among other these works.
In 1905 he became the director of music at St.Paul's Girl's school, a position which he held until his death. During this period, he became interested in English folk song and in 1907 became musical director at Morley college. Even though Holst was unfit for war service, he was given the post of YMCA music organiser among the troops in the Near East.On return to England in 1919, he was appointed professor of music at University College, Reading and he joined the teaching staff at the Royal College of Music. His comic opera "The Perfect Fool" was performed in 1923 and in 1924 he completed his "Choral Symphony" on poems by Keats. Other later works include the opera "The Wandering Scholar" (1930), "The Choral Fantasia" (1931), "The Brook Green Suite" and "Lyric Movement" (1933).
His most well known orchestral suite was "The Planets" in 1916. It was Clifford Bax, brother of the composer Arnold Bax who introduced Holst to astrology. "The Planets" brought him unwanted fame. The movements included Mars (the bringer of war) which included thunderous sounds, Venus (the bringer of peace) which was serene, Mercury (the winged messenger) which was a fast scherzo, Jupiter (the bringer of jollity) which used full orchestra with a majestic melody which Holst later set as the hymn "I vow to thee my country", Saturn (the bringer of old age) which was Holst's favourite movement, Uranus (the magician) which was a dance of glee, and Neptune (the mystic) which made use of female voices.
Much of his musical output is vocal and quite unlike "The Planets". Holst died in 1934 following an operation.
Essential Albums:
Click on album cover to buy.