Home
|
Encylopaedia
|
Composers
| HOOKER
John Lee HOOKER (1917-2001)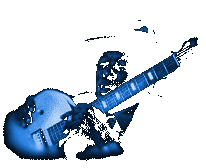 John Lee Hooker was yet another blues musician who was born on the Delta in Mississippi. He was born in relative poverty into a large family and was first taught guitar by his stepfather. He ran away to Memphis at a very young age (eleven or fourteen) where he met and learnt from a variety of blues artists and played in house parties and honky tonks. He appropriated the song "Crawlin' KingSnake" from the Blues singer Tony Hollins.
Unfortunately he was too young to play in Blues clubs and some musicians did not take too kindly to being up staged so he soon became disillusioned and nearly gave up performing the Blues. He moved to Cincinnati where he sang in gospel groups and ended up in Detroit by 1943 where he worked for Ford. A local entrepreneur Joe Van Battle had built a recording studio behind his record store and Hooker's recording career started there. His idol was T-Bone Walker who was by then the biggest performer in Detroit. It was T-Bone Walker who gave Hooker his first electric guitar.
Major commercial success came late for John Lee Hooker, during his thirties. His first hit was "Boogie Chillen" recorded in 1948 on Modern Records. His style incorporated a bluesy baritone voice, a rhythmic guitar drone and a throbbing boogie punctuated by clusters of "seventh" notes. He often provided percussion with his feet if no band was available. He had a total disregard for the traditional twelve-bar structure and rhyming couplets.
By 1951, Hooker had three other hits "Hobo Blues", "Crawling King Snake" and "I'm in the mood". He started recording for different labels and using different pseudonyms such as John Lee Booker, John Lee Cooker, the Boogie Man, Johnny Lee and Delta John. Other songs followed such as "Shake, Holler and Run" and he even worked as a local DJ so he could promote his products still further. He did not worry too much about the legal niceties of contractual obligations. It is estimated that between 1949 and 1953, Hooker made some seventy singles on twenty-four different labels using a dozen different names.
Hooker was known to be a womanizer and he is reputed to have almost died after a jealous partner tried to poison his whisky. By the late 1950s, the market for R&B was declining and Hooker began to perform at folk clubs for a largely white audience. His reputation grew, especially as the Rolling Stones had quoted him as a major influence and he signed to Veejay in 1955 where he adopted the band format that he had been using live for some years. He had hits with the songs "Boom boom" and "Dimples".
During the 1960s, he became a hero of the British Blues boom and collaborated with bands such as Canned Heat to release "Hooker'n'Heat: the best of plus" (1970) and with artists such as Van Morrison. He released the albums "The Folk Blues of John Lee Hooker" (1959) and "The Real Folk Blues" (1966). Bands such as MC5, the Doors and the Animals all covered his songs. Hooker was silent for most of the 70s and 80s apart from the odd festival appearance and a part in the Blues Brothers film (1980). In 1989, he had a comeback album "The Healer" which was a great success and the song "Mr. Lucky" with Van Morrison in 1991 climbed to the top of the charts. Another album in 1995 "Chill Out" was also a success in which he collaborated with Pete Townshend.
John Lee Hooker died on the 21st July 2001.
Essential Albums:
Click on album cover to buy.


Discography:
Everybody's Blues (1950)
Folk Blues (1959)
The Country Blues of John Lee Hooker (1960)
Blues Man (1960)
House of the Blues (1960)
I'm John Lee Hooker (1960)
Travelin' (1960)
The Folk Lore of John Lee Hooker (1961)
John Lee Hooker Plays and Sings The Blues (1961)
John Lee Hooker Sings The Blues (1961)
Burnin' (1962)
Tupelo Blues (1962)
The Blues (1962)
Drifting the Blues (1962)
Don't Turn Me From Your Door (1963)
Live at Sugarhill (1963)
John Lee Hooker (1963)
The Great John Lee Hooker (1964)
John Lee Hooker at Newport (live) (1964)
The Big Soul of John Lee Hooker (1964)
I Want To Shout The Blues (1964)
Great Blues Sounds (1964)
Burning Hell (1964)
Seven Nights (1965)
It Serves You Right To Suffer (1966)
The Real Folk Blues (1966)
Live at Cafe Au Go-Go (and Soledad Prison) (1966)
Live at Cafe Au Go Go (1967)
Urban Blues (1967)
Hooked on Blues (1968)
John Lee Hooker (1968)
Get Back Home (1969)
Simply The Truth (1969)
Big Red Blues (1969)
That's Where It's At! (1969)
John Lee Hooker on The Waterfront (1970)
Moanin' and Stompin' Blues (1970)
Endless Boogie (1970)
If You Miss 'im...I Got 'im (1970)
No Friend Around (1970)
Coast To Coast Blues Band (1971)
Goin' Down Highway 51 (1971)
I Feel Good (1971)
Detroit Special (1972)
Mad Man Blues (1974)
Alone (live) (1976)
Black Snake (1977)
Everybody Rockin' (1980)
This Is Hip (1980)
Sittin' Here Thinkin' (1980)
John Lee, Vol.1 (1981)
Chess Masters (1982)
Blues Before Sunrise (1984)
Do The Boogie (1984)
Solid Sender (1984)
Jealous (1987)
Detroit Blues (1987)
The Blueway Sessions (1988)
Want Ad Blues (1988)
The Healer (1989)
Hobo Blues (1990)
Don't You Remember Me (1990)
Walking The Blues (1991)
Mr. Lucky (1991)
I'm In The Mood (1992)
Boom Boom (1992)
Helpless Blues (1995)
Don't Look Back (1997)
Hooker and The Hogs (1997)
You Don't Remember Me (1998)
Black Man Blues (1998)
Canned Heat (2000)
On Campus (2000)
Half a Stranger (2001)
World's Greatest Blues Singer (2001)
Boogie Chillun (2001)