Home
|
Encylopaedia
|
Composers
| JAM
The JAM (1975-1982)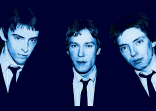 The Jam consist of Paul Weller (b. 25th May 1958) on vocals/guitar, Bruce Foxton on bass/vocals and Rick Buckler on drums. They formed in 1975 while they were all still at school with Steve Brookes on guitar, however he left soon afterwards. The Jam signed to Polydor Records in 1977 after spending much of 1976 gigging and building up a local following. They released their debut single "In The City" in the same year which reached the UK top 40 and this was followed with the release of their debut album also titled "In The City". This was rumoured to have been recorded in just eleven days. "All Around The World" was their second single which reached the UK top 20.
Their style of music did not follow the punk style that was fashionable at the time, instead they were influenced by mod groups such as The Who. Their second album "This Is The Modern World" (1977) was released and reached no.22 in the UK album charts before the Jam embarked on an American tour. This tour however, was not very successful. During a UK tour, the group were involved in a fight with a group of Leed's Rugby players which resulted in a court appearance for Weller. The Jam carried out another unsuccessful tour of America in 1978 supporting Blue ?yster Cult.
Their next album was "All Mod Cons" (1979) which reached no.6 in the UK charts and the single "Down in the Tube Station at Midnight" became a hit. Their "Eton Rifles" however, became their first top ten single, reaching no.3. "Setting Sons" (1979) was their next album, reaching no.4 in the UK charts but only reaching no.137 in the US charts in 1980. "Going Underground" gave the Jam a no.1 single in the UK, "Start" provided them with their second and the double A sided "Town Called Malice"/"Precious" gave them their third. Following albums include "Sound Effects" reaching no.2 in the UK and no.72 in the US and "The Gift" (1982).
Weller became frustrated with the Jam's musical direction and the decision to split the band came in December 1982. Their final single "Beat Surrender" reached the UK no.1. Weller was moving more towards soul and R&B and soon formed another band called the Style Council.
Essential Albums:
Click on album cover to buy.


Discography:
In The City (1977)
This Is The Modern World (1977)
All Mod Cons (1978)
Setting Sons (1979)
Sound Affects (1980)
The Gift (1982)
Dig The New Breed (live) (1982)
Peel Sessions (live) (1990)