Home
|
Encylopaedia
|
Composers
| JOHN
Elton JOHN (1947-)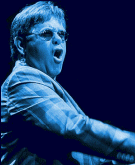 Elton John was born Reginald Kenneth Dwight on March 25th 1947 in Pinner, Middlesex, GB. He started to play the piano at the age of 4 and went on to study at the Royal Academy of Music. His first band was called Bluesology and included Long John Baldry, Elton Dean (saxophone) and Caleb Quaye (lead guitar). Through Ray Williams of Liberty Records, Elton John met the writer Bernie Taupin. They became friends and went on to write many songs together, "Scarecrow" being their first. They were signed by Dick James in 1968 to be writers at DJM for ?10 a week.
His debut album release was "Empty Sky" (1969) under DJM and in the same year he played session piano for The Hollies on "He Ain't Heavy He's My Brother" track and recorded various budget cover songs. His following album was "Elton John" (1970) which was produced by Gus Dudgeon and included the tracks "Border Song" and "Your Song" which reached the no.2 position in the UK charts. "Tumbleweed Connection" was also released in 1970 to much acclaim and this was followed with the film soundtrack "Friends" (1971) under Paramount and "17-11-70" (1971) under DJM. His live shows became legendary with his outrageous outfits and glasses and he became extremely successful in America. His next releases include "Madman Across The Water" (1971), "Honky Chateau" (1972), "Don't Shoot Me I'm Only The Piano Player" (1973), "Goodbye Yellow Brick Road" (1973) which contained the hit "Goodbye Yellow Brick Road", "Caribou" (1974), "Captain Fantastic And The Brown Dirt Cowboy" (1975) and "Rock of the Westies" (1975).
John Lennon performed at his Madison Square Garden concert in 1975, just before he was reunited with Yoko Ono and Elton became Sean Lennon's godfather. In 1976 he had a hit duet with Kiki Dee singing "Don't Go Breaking My Heart" and he released the albums "Here and There" under DJM and "Blue Moves" under Rocket. In 1978 he released his "A Single Man" and "London and New York" albums and in 1979 Taupin moved to Los Angeles and Elton began writing songs with Gary Osborne, however this partnership proved not to be as successful. His next album release was "Victim of Love" (1979) under Rocket.
Outside music, Elton's passion was football as was proved when he bought his favourite football club, Watford. His next albuum releases during the early 80s include "21 At 33" (1980), "Lady Samantha" (1980), "The Fox" (1981) and "Jump Up" (1982). It wasn't until he began writing songs with Taupin again that his music returned to being more successful.
Essential Albums:
Click on album cover to buy.


Discography:
Empty Sky (1969)
Elton John (1970)
The Games (1970)
Tumbleweed Connection (1971)
Friends (1971)
11-17-70 (live) (1971)
Madman Across The Water (1971)
Honky Chateau (1972)
Don't Shoot Me I'm Only The Piano Player (1973)
Goodbye Yellow Brick Road (1973)
Caribou (1974)
Captain Fantastic and the Brown Dirt Cowboy (1975)
Rock of the Westies (1975)
West of the Rockies (live) (1975)
Here & There (live) (1976)
Blue Moves (1976)
A Single Man (1978)
Victim of Love (1979)
21 at 33 (1980)
The Fox (1981)
Jump Up! (1982)
Too Low For Zero (1983)
Breaking Hearts (1984)
Ice On Fire (1985)
Leather Jackets (1986)
Live in Australia (1987)
Elton John Live in Australia (1987)
Reg Strikes Back (1988)
Sleeping With The Past (1989)
The Complete Thom Bell Sessions (1989)
The One (1992)
Duets (1993)
Made In England (1995)
Big Picture (1997)
Aida (1999)
The Muse (1999)