Home
|
Encylopaedia
|
Composers
| JOHNSON
Robert JOHNSON (1911-1938)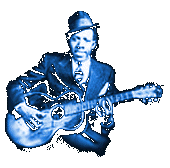 Eleven 78 rpm records were issued during Robert Johnson's lifetime and one posthumously. The only known recordings were carried out between 1936-37 during two sessions in San Antonio and Dallas, which total to 29 songs. He is most well remembered for his sophisticated guitar playing and his lyrics which are personalised by his raw vocals. He lived the life of a travelling musician, playing requests from popular hits, country numbers to blues music.
He was born May 8th 1911 in Hazlehurst, Mississippi to Julia Dodds and Noah Johnson. He took his stepfather's name "Spencer" until adulthood when he reverted back to Johnson. He first learned to play the harmonica but was soon keen to play guitar. Early on in his career, he gained help and inspiration from the musicians Willie Brown and Charlie Patton, however they along with Son House mocked his playing. Son House particularly stated that Johnson had no talent for the guitar. His guitar and vocal style was also influenced by the recordings of Kokomo Arnold, Willie Newbern, Lonnie Johnson, Leroy Carr, Peetie Wheatstraw and Skip James..
Legend has it that Johnson at the age of twenty, disappeared for a year and when he returned he amazed everybody with his guitar playing. He claimed to have made a pact with the devil at the Crossroads of two highways in return for the gift of brilliant guitar technique. An old blues rumour was that if you went down to the Crossroads of Highway 61 and the old Highway 8 at midnight with your guitar and gave it to the big black man there. He would tune it for you and in return ask you to play something. There you will discover that you can play brilliantly. The tall man is rumoured to be Legba (the devil) who takes your soul as payment. This rumour was fuelled by Johnson's strange habit of turning his back on other musicians while playing (probably to protect his picking style), favouring unusual guitar tunings and the fact that he suffered with a cataract in one eye. This legend was also the subject matter for some of his lyrics such as "Me and the devil" and "Hellhound on my trial".
He married his first wife Virginia Travis in 1929 who unfortunately died in childbirth. He married his second wife, Calletta Craft in 1931. Soon after his reamergence as a brilliant guitarist, Johnson travelled widely and was reputed to be able to play anything that anyone wanted to hear. It was also stated that after hearing any style of song on the radio once, Johnson was able to play it back note for note. His first recording session was in 1936 and yielded the song "Terraplane Blues". His total catalogue of Blues compositions were recorded in just two extended sessions in San Antonio and in Dallas a year later.
Robert Johnson was known as a "ladies man" and this would lead to his eventual downfall and death of poisoning by a jealous husband. Eyewitness reports stated that he died after drinking whiskey laced with strychnine after performing at the Greenwood in Mississippi. It is not exactly known where Robert Johnson is buried, possibly an unmarked grave.
A mentor of Robert Johnson's life was Ike Zinnerman and Johnson's improvement in the guitar could well possibly be attributed to him. Johnson himself became a mentor to Robert Coleman as a result of living with his mother. Robert junior was naturally gifted and Johnson taught him everything he knew. Elmore James founded his career on Johnson's "Dust my broom" and many a Blues performer sang "Walking Blues" and "Come on in my kitchen". "Crossroads" was performed by Cream and "Love in vain" was performed by the Rolling Stones. Other artists influenced by Johnson include Howlin' Wolf, Muddy Waters, Jimi Hendrix and Led Zeppelin.
There are only two photographs of Robert Johnson known to exist to this date.
Essential Albums:
Click on album cover to buy.


Discography:
Nothing But The Blues: Cross Road Blues (1936)
King of the Delta Blues Singers (1966)
Legacy (1976)
The Complete Recordings (1990)
Delta Blues: The Alternative Takes (1990)
All Time Blues Classics (1996)
Gold Collection (1998)
Steady Rollin' Man (1999)
Genius of the Blues (2000)
Me and the Devil Blues (2000)