Home
|
Encylopaedia
|
Composers
| JOPLIN
Janis JOPLIN (1943-1971)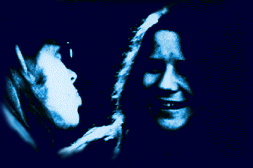 Janis Joplin was born in Port Arthur in Texas on the 19th January, 1943 and was blessed with a stunning blues voice. She was one of the few decent white blues singers and was a disciple of Bessie Smith. At seventeen, she left home and spent a couple of years hitching rides and making money by singing until she got to California. An encounter with Chet Helms in California launched Janis on to her singing career.
Janis joined the "Big brother and the Holding company" in June 1966. She fitted in well with "The Big Brother and the Holding Company" as they were well able to support her changes of vocal gear even if they were lacking in certain talents. They played at Monterey in 1967 during the revival of Big Mama Thornton's "Ball and Chain". The album "Big brother and the holding company" was released in 1967. Clive Davis signed her up for Columbia in 1968 during her trip to New York.
Janis Joplin had an outrageous personality and boasted that she sealed her recording contract with Davis by fucking him. Her albums include "Cheap frills" (1968) which contains the song "Piece of my heart" and she also had a chart-topping hit with the Kris Kristofferson's song "Me and Bobby McGhee" which was released posthumously. Joplin split from "Big brother and the holding company" in 1968 due to the pressures of success. The Kozmic Blues Band was created to support her and her first solo album "I got dem ol' Kozmic blues again mama" was released in 1969, which went gold. Janis stripped down the support band to create the Full Tilt Boogie band which was to return to the sound of big brother.
Janis was a heavy drinker throughout her life and even though she had been off heroin for six months, she died of a heroin overdose in October 1970, a day before she had been due to record a vocal for "Buried alive in the Blues". "Pearl" (1971) was released as an unfinished album posthumously. The 1979 Bette Midler movie "The Rose" was inspired by Janis's career. Two months before her death, Janis had bought a headstone for the grave of Bette Smith.
Essential Albums:
Click on album cover to buy.

Discography:
I Got Dem Ol' Kosmic Blues Again Mama (1969)
Pearl (1971)
In Concert (live) (1972)
Janis Joplin (1975)
Prime Cuts (1983)
Farewell Song (1983)
Live at Woodstock: August 19, 1969 (1999)