Home
|
Encylopaedia
|
Composers
| JOY DIVISION
JOY DIVISION (1976-1980)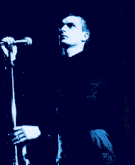 The members were Peter Hook, Bernard Albrecht, Steven Brotherdale and Ian Curtis (vocals) and were initially called The Stiff Kittens. By 1977 they had changed their name to Warsaw (after a David Bowie track), however they found that another band existed with the same name so changed to Joy Division. The name Joy Division was taken from the prostitute wing in a Nazi concentration camp and they soon gained a reputation of being a good live band.
Their recorded material to date was a self funded EP on their own Enigma label, one track on a Virgin compilation and another two tracks on a Factory compilation. They signed with Factory Records in 1979 and their first album was "Unknown pleasures" in July 1979. Their first single "Love will tear us apart" hit the top 20 in the UK indie charts, however failed to make it in the popular charts. The success of the album led to more live dates which placed a strain on Curtis who had to be helped off stage at their final live concert in May 1980.
Curtis hanged himself in 1980, just before the eve of an American tour. Curtis was an epileptic who was going through a marriage break up and was finding the pressure of playing live gigs hard to cope with. Ironically, "Love will Tear Us Apart" was re-released after his death and reached no.13 in July 1980. It also recharted on two further occassions, reaching no.19 in November 1981 and no.19 in 1995. The remaining members carried on as New Order.
Essential Albums:
Click on album cover to buy.

Discography:
Unknown Pleasures (1979)
Closer (1980)
Preston Warehouse 28 February 1980 (live) (1999)
Les Bains Douches (live) (2001)