Home
|
Encylopaedia
|
Composers
| BANCO DE GAIA
BANCO DE GAIA (1992-)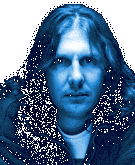 Banco De Gaia was formed in 1992 by Toby Marks who had just spent two years travelling in Egypt. His aim was to incorporate his musical experiences from Egypt with the western modern dance style. He had also acquired a collection of street tapes from the Middle East and North Africa. His musical background included singing for the school choir and dabbling in the violin, trumpet, guitar, piano and percussion.
Before travelling he played guitar with various bands and through experimenting with LSD was drawn to the technique of layering textures of sound. As Banco De Gaia, he initially spent his time doing live gigs between the MegaDog club and the Whirl-y-Gig club owned by Bob Dog and DJ Monkey Pilot. He also spent the first six years working closely with producer and sound engineer Andy Guthrie.
Two of his earlier tracks appeared on the "Ambient Dub Volume 1" compilation album (1992) and he released a series of cassettes on Toby's Own World Bank Label called "Freeform Flutes and Fading Tibetans". He released his "Desert Wind" EP in November 1993.
In 1994 the "Maya" album was released on the Planet Dog label which reached the top 30 in the UK charts, followed with "Last Train to Lhasa" (1995) which reached the top 10. "Live at Glastonbury" was released in 1996, followed with "Big Men Cry" (1997). The next album to follow was "The Magical Sounds of Banco De Gaia" (1999) and then "Igizeh" (2000).
Essential Albums:
Click on album cover to buy.
Discography:
Maya (1994)
Last Train to Lhasa (1995)
Live At Glastonbury (1996)
Big Men Cry (1997)
The Magical Sounds of Banco De Gaia (1999)
Igizeh (2000)