Home
|
Encylopaedia
|
Composers
| KING CRIMSON
KING CRIMSON (1968-)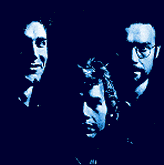 King Crimson used both classical and folk influences which incorporated the sound of the mellotron and featured mythical, fantasy based lyrics. The band was formed in 1968 with song writer and front man Robert Fripp, Mike Giles, Ian McDonald and Pete Sinfield with guest vocalist Judy Dyble. This line up released the album "The Cheerful Insanity of Giles, Giles and Fripp" (1968).
It was rumoured that Bryan Ferry and Elton John were auditioned and rejected before Greg Lake joined as bass player. As King Crimson, the band made their debut at the Rolling Stone's concert at Hyde Park in 1968. Their debut album "In The Court Of The Crimson King" (1969) was well received by both British and American press. After a gruelling tour, both McDonald and Giles left the band and Lake also left during the recording of "In The Wake Of Poseidon" (1970) to join Emerson, Lake and Palmer.
During the following year, Fripp kept King Crimson going using session musicians such as Keith Tippett, Marc Charig, Mel Collins, Gordon Haskell and Andy McCullough with the release of "Lizard" (1970). The next line up of King Crimson included Fripp, Collins, Ian Wallace and Boz Burrell with their following albums being "Islands" (1971) and "Earthbound" (1972) before this line up was disbanded.
The third incarnation of King Crimson consisted of a five-piece with Fripp, John Wetton, David Cross, Bill Bruford and Jaime Muir. "Lark's Tongues in Aspic" was released in 1973 before Muir left to join a monastery leaving a four piece. "Starless and Bible Black" was released in 1974 and an American tour followed before Fripp ended the band. A posthumous studio album "Red" was released in 1974 and "A Young Person's Guide To King Crimson" (1975) followed.
In 1981, Fripp brought a new version of King Crimson back to life with Bruford, Adrian Belew and Tony Levin which was radically different to the old band style. The band tended towards a pop minimalist style. Albums such as "Discipline" (1981), "Beat" (1982) and "Three of a Perfect Pair" (1984) were released. This line up was disbanded in 1984, however Fripp re-formed yet another incarnation in 1991 with Trey Gunn and Pat Mastelotto. This line up consisted of two different players on three different types of instrument; two guitars, two bass-type instruments and two drums. Albums to follow were "Vroom" (1994), "Thrak" (1995), "B'Boom" (1995), and "THRaKaTTak" (1996).
The new version of the group has "fractalized" into what Robert Fripp calls ProjeKcts with various combinations of the six players work together in various musical situations. "King Crimson - The ProjeKcts" a 4 CD box set was released in late 1999.
Essential Albums:
Click on album cover to buy.
Discography:
In The Court of The Crimson King (1969)
In The Wake of Poseidon (1970)
Lizard (1970)
Islands (1971)
Earthbound (1972)
Larks' Tongues in Aspic (1973)
Starless and Bible Black (1974)
Red (1974)
USA (1975)
Discipline (1981)
Beat (1982)
3 of a Perfect Pair (1984)
Thrak (1995)
B'Boom (live) (1995)
Thrakattak (1996)
Epitaph (1997)
Night Watch (1998)
Absent Lovers: Live in Montreal 1984 (1998)
Live at the Marquee, 1969 (1998)
Live at Jacksonville, 1972 (1998)
Live at Cap D'Agde, 1982 (1999)
Cirkus (1999)
On Broadway: Live in NYC, 1995 (1999)
Live in San Francisco: The Roar of P4 (1999)
Deception of Thrush (1999)
The VROOOM Sessions, 1994 (1999)
Deja Vrooom (1999)
ConstruKction of Light (2000)
Nashville Rehearsals, 1997 (2000)
Live in Mainz (2001)