Home
|
Encylopaedia
|
Composers
| LED ZEPPELIN
LED ZEPPELIN (1968-1980)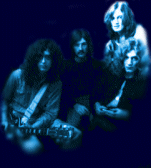 Led Zeppelin was formed by the guitarist Jimmy Page after the split from his former band, the Yardbirds. The band included Page, John Paul Jones on bass/keyboards, John Bonham on drums and Robert Plant as vocalist. Plant had previously been a singer in a band called Hobbstweedle. They renamed themselves New Yardbirds but soon became Lead Zeppelin after a remark made by the Who's Keith Moon. (The 'a' was dropped after several people mispronounced the name.) Their manager was Peter Grant who was sometimes referred to as the fifth member.
Their early style was heavily blues influenced with a classical touch in the keyboard section. Led Zeppelin's music went on to be described as "heavy metal Blues" and many later "metal" bands owe their heritage to them. As a rule they refused to release 45s and instead focused on their albums, however they were forced to release a few singles in the United States.
The band was signed up by Atlantic Records and they toured the United States early on in their career in 1968, supporting Vanilla Fudge. Their debut album which was rumoured to have been recorded in just thirty hours, "Led Zeppelin" (Jan 1969) included the songs "Good times, Bad times", "Communication Breakdown" and "Dazed and confused". The album reached no.10 in the US album charts. They toured non-stop for approximately two and a half years quickly selling out at large venues in America.
Their second album "Led Zeppelin II" (Oct 1969) included the songs "Whole Lotta love", "Livin' lovin' Maid" and "Moby Dick". This album was put together while the band were still on the road touring and was therefore recorded using different studios with the help from Eddie Kramer. An edited version of "Whole lotta love" was released in America which reached the no.5 position, but no official singles were ever released in the UK. A softer version of this song was used by the UK based "Top of the Pops" program as a signature tune for many years. The album topped the US album charts for seven weeks.
The albums that followed were "Led Zeppelin III" (1970), featuring the tracks "Immigrant song" and "Gallow's pole". This album was more folk orientated. "Led Zeppelin IV" was released in 1971 which was also known as "Runes", "Four Symbols" and "Untitled". It included the 8 minute long "Stairway to Heaven" which was recorded in Island Studios and became the most popular album track on radio as it was never released as a single. Other tracks included "When the Levee Breaks", "Misty mountain hop", the folk based "Battle of Evermore" on which they were joined by Sandy Denny and "Black Dog". This album sold more copies than their previous ones, even though it didn't reach no.1 in the US album charts.
They toured in 1972 to support "Led Zeppelin IV" and then went on to release "Houses of the Holy" (1973) which included "The Rain song". It reached no.1 in both the UK and US album charts. They supported the album with touring in 1973 and their Madison Square Garden concert was later released in the film "The Song Remains The Same".
Their Swansong label was launched in 1974, a year in which they took a break from touring and recording. Their UK based retreat was Headley Grange in Hampshire. Touring resumed in 1975 and "The song remains the same" film was released in 1976. "Physical graffiti" was their first album to be released under Swansong in 1975 as a double album and it reached no.1 position in both the UK and US. Plant had a serious car accident in 1975 which laid him out of action for two years and prevented any touring. "Presence" followed in 1976, again reaching no.1 in both the UK and US. Whilst touring in 1977, Plant's son Karac died of a stomach infection and the tour was immediately cancelled. Plant spent the rest of 1977 and much of 1978 away from the public eye.
They made a return at Knebworth festival in 1979 and they went back on tour in 1980. Their next album was "Through the out door" (1979) which reached no.1 in both the UK and US.
More recording and touring was to follow, however John Bonham was found dead at Page's house in September 1980. The announcement to end the band came in December. "Coda" was released in 1981 which contained previously unreleased material to fulfill contractual obligations. Plant and Page pursued successful solo careers and reunion gigs were occasionally played with Bonham's son on drums. Led Zeppelin reunited to play Live Aid in 1985. Page and Plant have also reunited and gone on to do projects together.
Essential Albums:
Click on album cover to buy.



Discography:
Led Zeppelin (I) (1969)
Led Zeppelin (II) (1969)
Led Zeppelin (III) (1970)
Led Zeppelin (IV) (1971)
Houses of The Holy (1973)
Physical Graffiti (1975)
The Song Remains The Same (live) (1976)
Presence (1976)
In Through The Out Door (1979)
Coda (1982)