Home
|
Encylopaedia
|
Composers
| LENNON
John LENNON (1940-1980)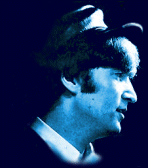 John Winston Lennon was born on the 9th October 1940 and was brought up by his aunt Mimi who became his legal guardian. He still maintained a good relationship with his mother who unfortunately died when he was only seventeen. Her death had a profound affect on Lennon and he participated in Primal Therapy as an adult to try and come to terms with his grief. From an early age Lennon was obsessed with Rock'n'Roll music and was influenced by Elvis and Skiffle. His first band was called the Quarry Men. Lennon also proved to be a talented artist and wrote a book "In his own write" (March 1964) which was a best seller, selling 100,000 copies. His "Walls and Bridges" album cover featured his own art work from when he was aged eleven. A second book was published in June 1965, "A Spaniard in the Works".
He started his solo career in 1968 with the decline of the Beatles after the "Sergeant Pepper" album and the death of their manager, Brian Epstein in 1967. Lennon had already met Yoko Ono in November 1966 at her art exhibition "Unfinished Paintings and Objects" at the Indica Gallery in London. He was intrigued by her book "Grapefruit" and they formed a bond which was to progress further into a relationship in May 1968. Lennon was divorced from his first wife Cynthia in 1968 (with whom he had a son Julian who was born in 1963).
In 1968, Yoko and Lennon recorded a piece of work entitled "Unfinished music no. 1: Two virgins". They both embarked on a series of activist and political ventures from planting acorns for peace to being outspoken on certain issues. Their relationship was not regarded as a good thing by certain members of the Beatles and from some fans. Paul, George and Ringo became to get frustrated that Yoko was continuously at John's Side in the recording studio and at Apple business meetings.

John and Paul began a bitter feud and in Paul's first album "Ram", references were made concerning John and Yoko. John retaliated with "How do you sleep" on his LP "Imagine" (1971). The Beatles "White Album" (1968) was released during the same month as John and Yoko's "Two virgins". The cover depicted the couple standing naked and was therefore sold in a brown paper bag. "Revolution" was recorded in 1968 by John as an observation on violence on the streets. He was the first Beatle to do live work with Yoko, playing at Cambridge University's avant-garde jazz concert.

They married in 1969 and spent their honeymoon in Amsterdam at a "Bed-in" which attracted much publicity. John was initially refused a US visa, but after changing his middle name he was able to enter America. They also carried out a "Bed-in" in Montreal. They released "Unfinished music no.2: life with the lions" (1969). While at the "bed-in" in America, "Give peace a chance" was recorded and the song became a hit on both sides of the Atlantic, credited to the Plastic Ono band. The Plastic Ono Band was intended to be a conceptual band.

The Plastic Ono band was formed from Eric Clapton, ex-Manfred Mann bassist Klaus Voorman and drummer Alan White. A concert took place in Toronto and a live album from the concert was released "Live peace in Toronto" (1969). The song "Cold Turkey" was released which reached the top 20 in the UK and the top 30 in the US, along with another album "Wedding album" (1969). A Christmas benefit gig was played in London that year with George Harrison and Keith Moon and the single "War is over! If you want it. Happy Christmas from John and Yoko" was released. John gave back his MBE in protest of Britain's stance towards Biafra and Vietnam.
John wrote and recorded "Instant Karma" with producer Phil Spector in a single day in 1970. He even performed this single on Top of The Pops with Yoko sitting alongside his piano, knitting. In April of the same year, Paul McCartney split from the Beatles. The next release was the album "John Lennon/Plastic Ono Band" (1970).
The beginning of 1971 was taken up with legal entanglements with the Beatles and with matters of money. John released the song "Power to the People" and the album "Imagine" (1971) was also released which included the tracks "How do you sleep?", "Imagine" and "Jealous guy" which he had written in India and which became his first no.1 hit in both the UK and US. Roxy Music took the song to no.1 in 1981.
In 1971, John and Yoko moved to New York and they were accepted by the Greenwich Village underground and became further involved in political campaigns. The next album was the live "Sometime in New York City" (1972) which included the single "Woman Is The Nigger Of The World" which did not receive much radio play. John then had to fight the authorities to remain in America supposedly due to his previous drug convictions, however probably based more on political grounds. Nixon attempted to deport John and there was intense surveillance of him during all of 1972. The FBI considered John to be an enthusiast of the demonstations at the Republic National Convention.
In 1973, "Mind Games" was released which did not quite reach the top 10 in Britain. It included the tracks "Mind games", "Meat city" and "You are here".
In 1974, John split up from Yoko and moved to Los Angeles to make another album "Rock'n'Roll" with Spector. He lived with Ringo Starr, Harry Nilsson and Keith Moon and drunken sprawls often occurred while recording. During his "Lost Weekend", John jammed together a few times with Paul McCartney with whom he had made a reconciliation. He finally abandoned the project with Spector when Spector locked himself away in his home with the tapes and he released "Walls and bridges" (1974) instead which reached no.1 in the US.
Tony King introduced John to Elton John, who was then one of the most popular artists in America. He played his last live performance with Elton John on 28th November 1974, after the track "Whatever gets you thru the night" on which Elton had played, reached no.1 in the US. Yoko was in the audience that night and within a month of the performance, Yoko and John were back together again after a sixteen month separation.
It was not until July 1974 that Lennon managed to retrieve his tapes from Spector. He managed to rescue four tracks and recorded the other nine tracks in just five days. "Rock'n'Roll" was released in February 1975. Yoko became pregnant with Sean in 1975 and John turned to matters of domesticity and music was put on hold for a while. He let his contract with EMI run out and he lost touch with the music business except for his close friends who visited. Elton John became godfather to Sean.
John returned to recording after five years with the release of the album "Double fantasy" (1980) which included the tracks "Beautiful boy" and "Watching the wheels". His "(Just Like) Starting Over" was released as a single.
Work was began on a follow up album "Milk and honey" and a batch of new songs were being prepared to give to Ringo for a 1981 album project. On December 8th 1980, John Lennon was shot dead by Mark Chapman to whom he had just given an autograph. "(Just like) starting over" became a posthumous no.1 in both the UK and US. A back catalogue was also issued and the incomplete "Milk and Honey" was released in 1984. Since John's death, Jon Weimer (UCLA professor and author) has spent many years involved in a lawsuit to attempt to retrieve all the files that the FBI had on him. He has managed to obtain all but a handful.
Essential Albums:
Click on album cover to buy.




Discography:
Unfinished Music, No.1: Two Virgins (1968)
Life With The Lions: Unfinished Music #2 (1969)
Wedding Album (1969)
Live Peace in Totonto 1969 (1969)
John Lennon/Platic Ono Band (1970)
Imagine (1971)
Sometime in New York City/Live Jam (1972)
Mind Games (1973)
Approximately Infinite Universe (1973)
Feeling The Space (1973)
Walls and Bridges (1974)
Rock'n'Roll (1975)
Double Fantasy (1980)
Milk & Honey (1984)
Live In New York City (1986)
Menlove Ave. (1986)