Home
|
Encylopaedia
|
Composers
| LISZT
Franz LISZT (1811-1886)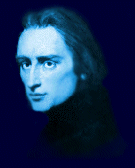 Franz Liszt was a Hungarian composer and musician who was born in Raiding on the 22nd October 1811. He became one of the most important and flamboyant figures of the 19th century Romantic movement. He was unrivalled as a keyboard virtuoso and was strongly influenced by Paganini. He also taught, conducted and was a prolific composer. Among his triumphs as a conductor was the first performance of Lohengrin.
Liszt was a child prodigy who gave his first performance at the age of nine and at the age of eleven he received great acclaim from Beethoven. He went to Vienna in 1821 to receive lessons from Salieri and Czerny. He played in Paris in 1823 and London in 1824, 1825 and again in 1826. He lived in Paris between 1823 - 1835 and became friends with Berlioz and Chopin. In 1831 he heard Paganini play. By the time he was 16 he was a veteran touring virtuoso and gave up travelling to teach. He gave up playing public concerts so he could concentrate on other aspects of music such as composing.
In 1833 he met Countess Marie d'Agoult with whom he had an affair. They went to live in Switzerland where Liszt taught in Geneva and they had three children. Together they travelled widely and he performed many concerts. A collection of his work "Years of Pilgrimage" dates from this period. In 1839 he donated a large sum of money towards Beethoven's memorial and he toured Europe between 1839-47. He separated from the countess in 1844.

In 1847 he met Princess Carolyne Sayn-Wiltgenstein and in 1848 he became Kappellmeister at the Weimer court until 1859 when he left for Rome three years later. At Weimer he had at his disposal an orchestra and theater. During this period he made Weimer a pre-eminent music centre, conducting a vast number of works. His relationship with the princess was doomed however, as she was unable to secure a divorce from her husband.

He wrote over four hundred original compositions. His works include two piano concertos, the Hungarian Rhapsodies, the four Mephisto waltzes, "B minor sonata" (1852-53) which was dedicated to Schumann, symphonies such as his "Faust symphony" (1854) and thirteen orchestral symphonic poems including "Hamlet", "Tasso" and "Humenschlacht". His "Faust symphony" was split into three movements, the first "Faust", second "Gretchen" and the third "Mephistopheles". He also wrote the twelve "Transcendental Studies" and developed the device of "metamorphosis of themes".
He was an advocate of the works of Schumann, Berlioz and Wagner. Wagner married his daughter, Cosima. He was a radical thinker harmonically, developing many of the sonorities that were immediately taken up by Wagner. His technique was very unusual as is heard in the recently discovered "Bagatelle sans tonalit?". Liszt explored the keyboard range fully, inventing new aspects of expression and his piano writing involved huge chords, rapidly repeated notes, double octaves and sudden cadenzas that required deft finger technique.
He also invented the symphonic poem, thereby opening the flood gates for Balakirev, Tchaikovsky, Strauss and others. He was a generous man, frequently helping out his son-in-law Wagner. Liszt became devout later on in life and took minor holy orders in 1865 as the Abbe Liszt. He never actually became a priest however. He composed much religious music during this period including his oratorio "The Legend of St. Elizabeth" which was first performed in England in 1886 and "Christus". His amorous adventures, however, were still the talk of Europe. His last five years of his life were spent teaching. He died in Bayreuth in July 1886.
Essential Albums:
Click on album cover to buy.