Home
|
Encylopaedia
|
Composers
| MADONNA
Louise Ciccone MADONNA (1958-)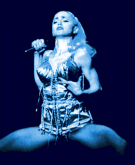 Madonna Louise Ciccone was born on the 16th August 1958 in Michigan, USA. In 1977 she went to New York where she studied choreography under Alvin Ailey in between modelling jobs. In 1979 she moved to France to work in a show featuring Patrick Hemandez and while there, met Dan Gilroy with whom she formed a band back in New York called the Breakfast Club. She played the drums and sang. In 1980 she formed Emmy with former drummer boyfriend Steve Bray which led to a recording deal with Shire Records in 1982. Her first single "Everybody" was produced by Mark Kamins and the track became a big US club hit in 1982. This was followed with "Physical Attraction" which also became a club hit.
Her third single " Holiday", written by Jellybean Benitez became another club hit before her debut album "Madonna" was released. The album made the top 20 in both the US and the UK. "Holiday" reached the top 40, followed with "Borderline" which reached the top 10. Her "Like a Virgin" single from the same titled album (produced by Nile Rogers) reached no.1 in the US and no.3 in the UK in 1984.
Madonna has been able to constantly reinvent herself and is probably the most commercially successful female artist of the 1980s and 90s. She has a great talent for manipulating the media with her image and music and she became one of the most frequently played female artists on MTV. Madonna has always managed to retain a large amount of creative control over her work throughout her career. She embarked on an acting career in 1985 with the film "Desperately Seeking Susan" and her brief but highly publicised marriage to Sean Penn kept her in the public eye. By 1987 her personal fortune was estimated at over $175 million. The same year saw Madonna embark on her "Who's That Girl" tour, followed with her "Blonde Ambition" tour which was even more successful.
In 1992 she signed a contract with Time Warner, estimated to be worth over $60 million and the same year saw her soft pornographic coffee-table book "Sex" out in the shops. In 1998 Madonna collaborated with William Orbit who produced her "Ray of Light" album which went on to win a Grammy for the best album of the year in 1999.
Essential Albums:
Click on album cover to buy.


Discography:
Madonna (1983)
Like a Virgin (1984)
True Blue (1986)
Who's That Girl (1987)
You Can Dance (1987)
Like a Prayer (1989)
Dick Tracy: "I'm Breathless" (1990)
Erotica (1992)
Bedtime Stories (1994)
Selections From Evita (1997)
Ray of Light (1998)
Rock on ROM (2000)
Music (2000)