Home
|
Encylopaedia
|
Composers
| MAHLER
Gustav MAHLER (1860-1911)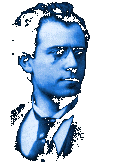 Mahler was a Bohemian composer born in Kalischt on the 7th July 1860. He was also a pianist and conductor known for his symphonies in late German-romantic style. He followed Bruckner in expanding the dimensions of the symphony. His main influences were Bruckner and Wagner. He started learning the piano at the age of six and started giving public recitals at the age of ten. He studied at the Vienna Conservatory between 1875-1878 where he studied the piano. On leaving he remained in Vienna working as a music teacher.
He composed the cantata "Das klagende Lied" (1880) and entered it for the 1881 Beethoven prize but it was rejected. At a very early age, he attempted composing for opera and chamber music, however none of these works have survived complete. In 1880 he also started work as a composer and this brought him appointments in Prague, Leipzig, Budapest, Hamburg, Vienna and New York. He quickly became one of the outstanding composers of the day. His works include nine numbered symphonies (the longest of these takes almost two hours to play) and his first symphony in D was started in 1884 and finished during the mid 1890s. It underwent a few modifications as the 5 movements were reduced to 4.
He also wrote a many songs. He called himself a "summer composer" as he had to fit his composing around his musical post as a conductor, which he did mainly during the winter months. While working as a conductor at Kassel (1883-1885), he had an unhappy love affair which inspired him to write the song "Lieder eines fahrenden Gesellen" (1885). He was also one of the first international artists who performed in London, Moscow, Amsterdam and New York. In 1888 Mahler met Richard Strauss and they became lifelong friends.
In 1891, Mahler became chief conductor of Hamburg Opera, where he built up a company of talented singers and introduced many new works. He took the company to London in 1892. He wrote his second symphony in 1894, "Resurrection" and performed it in Berlin in 1895. His three symphonies of 1894, 1896 (3rd) and 1900 (4th) included parts of his "Des Knaben Wunderhorn" songs written between 1892-98 (meaning the boy's magic horn). In 1901 Mahler embarked upon a period of intense creativity. His 5th symphony in C# minor to D major followed in 1902, his 6th in A minor (1904) and his 7th in E minor moving to C major followed in 1905.
Mahler was baptised into the Catholic church for practical rather than religious reasons as his Jewishness was a problem with him gaining a post in Vienna. As a result, he managed to obtain the post of Director of the Court Opera in Vienna in 1897. In 1902 Mahler married Alma Schindler (1879-1964) and he dedicated his eighth symphony to his wife. It's first performance was in 1910 (three years from finishing the composition). He became a father in 1902 and 1904 however his eldest daughter died in 1907. During this period, Mahler also wrote "Kindertotenlieder" (1904) meaning "songs for the death of children" in which he set 5 of Friedrich R?ckert's poems to music and "The Song of the Earth" (1909) where he set Chinese poems to music and made use of metal percussion and pentatonic motifs. He resigned his post of director of the Vienna Court Opera in 1907 after controversy.
Mahler first performed in America in 1908 and was given the post of conductor of the Metropolitan opera in New york where he stayed for two seasons. In 1909 he accepted the conductorship of the New York philharmonic Orchestra where he stayed for one season as he became ill. He intoduced many new works to New York, however not all were received with enthusiasm. He died in Vienna in the spring of 1911 after suffering with a heart ailment, leaving three large posthumous works, "Das Lied von der Erde" and his symphonies 9 (1909) and his 10th (1910) which was unfinished.
Mahler's talent as a conductor was never questioned, but his work was regarded for many years with fanciful admiration by a small number of admirers. His use of musical soundscapes were considered strange by some critics and he extended chromaticism to the edge of atonality. The quality of his music was recognised by Richard Strauss and during the 1950s, his work was revived. His work is deeply personal in expression and almost childlike in it's simplicity.
Essential Albums:
Click on album cover to buy.