Home
|
Encylopaedia
|
Composers
| MARLEY
Bob MARLEY (1945-1981)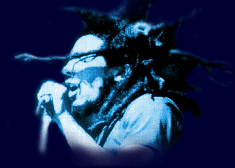 Bob Marley was born on the 6th February, 1945 in Robert Nesta, Jamaica and he became dedicated to the Rastafarian religion in 1967. He was the son of a white British army captain who played no part in his upbringing and a Jamaican mother. He became well known for his style of music that blended reggae, rock, R&B, soul and Jamaican folk rhythms. By the 1970s he had infiltrated the British and American music scene.
Desmond Dekker introduced Marley to his first label, Beverleys. "Judge Not" was released as a single, however it did not do very well. The follow up release "One Cup of Coffee" did not do too well either. He formed his first band, the Rudeboys (with Junior Brathwaite, Peter MacIntosh, and Bunny Livingston) in 1961 and they later went on to become the Wailing Wailers and then the Wailers.
The Wailer's style reflected the unsettled times of poverty in Jamaica. He had his first minor hit with "Simmer Down" which featured Bunny Livingston on lead vocal. Marley soon became known within the reggae circles of Kingston and started to have hits, however he was still barely making a living. The head of the Wailers Studio One Label, producer Coxsone Dodd never sorted Marley and the Wailers out financially. Marley briefly moved to America to live with his mother, however the threat of having to register for the American draft for the Vietnam war drove him back to Jamaica. When he returned, he, together with Livingston and McIntosh formed their own label, Wailing Soul.
The Wailers released four albums during the late 1960s and early 1970s and they had quite a few minor hits with songs such as "Bend down Low" which reached no.1 in Jamaica but was bootlegged which caused them to lose significant sales. Wailing Soul was wound down. Other minor hits include "Stir it up" and "Nice time", however they still did not achieve great success. They released a great number of singles during this period under different labels in Jamaica, some which were not distributed in Britain. The fact that Bunny Livington was jailed for nearly a year for ganga charges did not help matters.
Marley became friends with Jonnny Nash in 1968 and The Wailers recorded an album for Johnny Nash's production company and Nash's own version of "Stir it up" reached the top ten in many countries. Lee Perry, from Upsetter Records, also collaborated with the Wailers and produced two of their greatest albums "Soul Revolution Part Two" and "Soul Rebel". During this period, bassist Aston Barrett and his drummer brother, Carlton joined. The Wailers formed their own company, Tuff Gong in 1970 and in 1971 they released their biggest hit to date , "Trench Town Rock".
In 1972 the Wailers joined with the Upsetters, signed to Chris Blackwell of Island Records and released the album "Catch a fire" which contained tracks such as "Concrete Jungle". It received great critical acclaim. Other albums followed such as "Burnin'" (1973) which contained the tracks "Get Up, Stand Up" by Marley/Tosh and "I Shot The Sheriff" and "Live" (1975). By 1973, Bob Marley had taken over lead vocals as well as lead guitar.
In 1975, Tosh and Bunny left the group to launch solo careers of their own. The band then became renamed as Bob Marley and The Wailers with their debut album being "Natty Dread" (1975) which contained the tracks "Bend Down Low" and "No Woman No Cry". In 1976 the album "Rastaman Vibrations" was released which reached the US LP top 10 and by now, Bob Marley was recognised in both Europe and the Caribbean. He became both a well known solo artist as well as carrying on with the Wailers with his backing singers, the I-Threes (Rita Marley, Marcia Griffiths and Judy Mowatt).
Other artists such as Eric Clapton covered his music as in "I shot the sheriff". He released singles such as "Natural Mystic", "Jammin'" and "Positive Vibration". During the 1970s, he spent much time away from Jamaica as there was much political unrest and an attempt was made on his life in 1976. His album "Exodus" was released in 1977 which contained three hit singles in "Waiting in Vain", "Jamming" and "Exodus". Other albums followed with "Babylon by Bus" and "Kaya" both 1978 and "Uprising" (1980).
In April 1980, he gave a concert to celebrate the transformation of Rhodesia to Zimbabwe and Jamaica awarded him the nation's third highest civil honour, the order of merit. Unfortunately he was struck down with cancer of the brain while at the height of his career and died in May 11, 1981. An estimated 24,000 people paid their respects at his funeral including the prime minister and other government officials. Much previously unreleased material was soon available after his death.
Essential Albums:
Click on album cover to buy.



Discography:
Soul Shakedown (1969)
Soul Rebels (1970)
Catch a Fire (1973)
Burnin' (1973)
African Herbsman (1973)
Natty Dread (1974)
Rasta Revolution (1974)
Jah Live (1975)
Live (1975)
Rastaman Vibration (1976)
Reflection (1977)
Exodus (1977)
Kaya (1978)
Babylon By Bus (live) (1978)
Bob Marley and The Wailers (1979)
Survival (1979)
Uprising (1980)
Chances Are (1981)
Confrontation (1983)
In The Beginning (1984)
Riding High (1984)
Rebel Music (1986)
The Bob Marley Story: Caribbean Nights (1988)
The Mighty Bob Marley (1988)
Return To Dunns' River Falls (1989)
Bob Marley (Bella Musica) (1991)
Talkin' Blues (1991)
Rebel's Hop (1992)
Simmer Down at Studio One, Vol 1 (1994)
56 Hope Road Live (1994)
Reggae (1995)
Rainbow Country (2000)