Home
|
Encylopaedia
|
Composers
| MASSIVE ATTACK
MASSIVE ATTACK (1988-)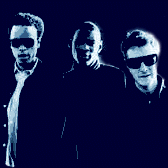 Massive Attack are graffitti artist Robert "3D" Del Naja, Grant "Daddy G" Marshall and Andrew "Mushroom" Vowles. The band originated in Bristol in 1987 and was initially a hiphop quartet/mobile sound system called The Wild Bunch with Nellee Hooper until he left to produce Soul II Soul and subsequently became one of the leading producers and remixers during the 1990s. Wild Bunch parties became renouned in and around Bristol and their style of music paved the way for the Bristol scene along with other bands such as Portishead, Sneaker Pimps and Beth Orton. Releases under the Wild Bunch include "Fucking Me Up" and "Tearing Down The Avenue". Another original member, Milo Johnson, left to begin work in Japan.
Massive Attack have always made good use of other artists' talents in their work. Fellow Bristolian rapper Adrian Tricky Thaws has been involved, along with Horace Andy and Shara Nelson's vocals on the "Unfinished Sympathy" track. Their first single was "Daydreaming" (1990) with vocals from Shara Nelson and Tricky. Through Nenheh Cherry, they met Cameron McVey who produced their debut album "Blue Lines" (1991). They were forced to call themselves Massive to ensure radio play during the gulf war. "Blue Lines" (1991) contained the tracks "Safe From Harm", "One Love" and "Unfinished Sympathy". This album took 8 months to record and "Unfinished Sympathy" was voted as the best single of 1991 by Melody Maker.
After the release of "Blue Lines", U2 asked them to remix their "Mysterious Ways" single. This was followed with their second album "Protection" (1994) which was produced by Nelee Hooper and spawned three singles "Protection" sang by Tracy Thorn from Everything But The Girl, "Karmacoma" and "Sly". After the release of this album, Massive Attack went on tour and worked with other artists such as Madonna, Garbage and Marvin Gaye. "No Protection" was released in 1995 as a dub mix by Mad Professor and Massive Attack. In the summer of 1997 Massive Attack played at Glastonbury Festival and the single "Risingson" was released as a limited edition in the autumn. They also set up their own Melankolic label featuring artists such as Alpha, Craig Armstrong, Lewis Parker and Horace Andy.
Their third album "Mezzanine" was released on May 12th 1998 which contained the tracks "Teardrop" sang by Liz Frasier which broke into the UK top 10 singles chart in May 1998, "Angel" and "Inertia Creeps". The album also featured Sara Jay on the track "Dissolved Girl". Massive Attack followed this release with a tour. In December they released a box set of their 11 singles and were nominated for 5 Brit awards, however didn't win. Mushroom didn't tour with Massive Attack in 1999 and left the band in September amid rumours of personality clashes. Daddy G and 3D are continuing as Massive Attack.
Essential Albums:
Click on album cover to buy.

Discography:
Blue Lines (1991)
Protection (1994)
No Protection (1995)
Mezzanine (1998)