Home
|
Encylopaedia
|
Composers
| BAUHAUS
BAUHAUS (1978-1983)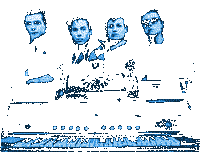 Bauhaus formed in 1978 in Northampton in England. Three of the original members (guitarist/vocalist Daniel Ash, bassist/vocalist David Jay (born David Jay Haskins), and drummer Kevin Haskins) had played together previously as the Craze and on teaming up with vocalist Pete Murphy they formed Bauhaus 1919 after the German art movement; by 1979, they had dropped the 1919 from their name and were known simply as Bauhaus.
Although they never became a successful mainstream band or enjoyed enormous record sales their music attracted a cult following (that is still alive and well over a decade since their demise) and went on to influence a great many bands to come. Their influences included the New York Dolls and David Bowie as can be seen in their cover of "Ziggy Stardust" in 1982 and in their sound track for the film The Hunger in which Bowie starred.
Usually pigeon-holed as new wave punk or goth-rock their music and their image was dark and almost sinister but during their brief career they experimented with a wide range of styles, often favouring minimalism, harsh chords and bleak keyboards but toying with glam rock and even heavy metal. They are perhaps best known for their first single "Bela Lugosi's Dead" (a tribute to the star of the early silent vampire movies) which was released in 1979 on the Small Wonder label. This was followed by "Dark Entries" (1980) under the 4AD label, "Terror Couple Kill Colonel" (1980), a cover of T.Rex's "Telegram Sam" (1980) and "She's in Parties" (1983).
The band released four albums during their career, as well as a singles retrospective double album. Their debut album "In the Flat Field" was released in October 1980 and reached number one in the independent charts and number 72 in the UK pop charts. On the back of this album's success Bauhaus enjoyed some limited success in the singles chart with "Kick in ther Eye" and "The Passion of Lovers".
Their second album "Mask" (1981) was also a commercial success as it reached no.30 in the UK album charts and it saw their music move away from its early darkness into a more textural and accessible direction. The EP "Searching for Satori" was released in 1982 and reached no.45 in the UK charts, followed with another single "Spirit". Their "Ziggy Stardust" cover reached No.15 in the U.K. charts and helped their third album, "The Sky's gone Out" (1982) reach No.4 in the U.K album charts. Their live albums include "Press the Eject Tape and Give Me the Tape" (1982).
Their final album, "Burning From the Inside" (1983) featured very little of Pete Murphy as he contracted pneumonia and missed most of the recording sessions. This gave Daniel Ash and David Jay a chance to pursue their own musical directions a little more freely. The album was another commercial success reaching no.13 in the album charts but the band split up soon after in July.
Many of the members have pursued solo or other projects but these have largely come to nothing. Murphy formed Dali's Car with Mick Karn from Japan before going solo, Ash and Tones worked an their Tail project and David Jay briefly joined the Jazz Bitcher. Bauhaus reformed briefly in 1998 for some U.S. tour dates and released the album "Gotham" which features a performance from this tour.
Other facts about Bauhaus are that John Cale wrote a song about them and Nico guested with them.
Essential Albums:
Click on album cover to buy.

Discography:
In The Flat Field (1980)
Mask (1981)
The Sky's Gone Out (1982)
Press The Eject and Give Me The Tape (live) (1982)
Burning From The Inside (1983)
Live in The Studio 1979 (1997)
Gotham (2000)