Home
|
Encylopaedia
|
Composers
| MCLAUGHLIN
John MCLAUGHLIN (1942-)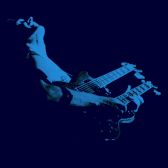 John Mclaughlin was born in Yorkshire, GB on the 4th January 1942 and is mainly self taught on the guitar which he started to play when he was 11. He gained himself such a great reputation on the guitar that artists such as Mick Jagger, Tony Williams, Eric Clapton and Miles Davis sought him out. His musical influences include Django Reinhardt.
Mclaughlin emigrated to the US in 1969 where he became a disciple of the guru Sri Chinmoy in 1970 and formed the Mahavishnu Orchestra blending together jazz, rock and Indian music. Albums released include "The Inner Mountain Flame" and "Birds of Fire". In 1975 the group disbanded and he went on to play Indian music with another group called Shakti. They made a strong impact on the World music scene.
He moved to Paris in the 1970s and he regularly played in guitar duets and trios during the 1980s with the Spanish flamenco player Paco de Lucia and Al Di Meola and also with Larry Coryell and Christian Escoud?. In 1984, Mclaughlin toured and recorded with a new Mahavishnu Orchestra.
Essential Albums:
Click on album cover to buy.


Discography:
Extrapolation (1969)
Where Fortune Smiles (1970)
My Goals Beyond (1970)
Devotion (1970)
Electric Dreams (1978)
Electric Guitarist (1978)
Belo Horizonte (1981)
Passion, Grace and Fire (1982)
Music Spoken Here (1983)
Friday Night in San Francisco (1986)
Adventures in Radioland (1987)
Mediterranean Concerto (live) (1988)
Live at the Royal Festival Hall (1989)
Que Alegria (1991)
Jazz, Vol.2 (1991)
Time Remembered (1993)
Tokyo Live (1993)
Mclaughlin and Santana (1994)
After The Rain (1994)
The Promise (1995)
Paco de Lucia/John Mclaughlin/Al Di Meola (1996)
The Heart of Things (1997)
Remember Shakti (1999)
Belo Horizonte (1999)
The Heart of Things: Live in Paris (2000)