Home
|
Encylopaedia
|
Composers
| MENDELSSOHN
Felix MENDELSSOHN (1809-1847)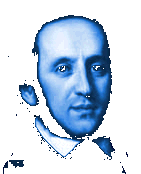 Mendelssohn was a German composer born in Hamburg to an upper-middle class Jewish family. He along with Chopin and Schumann led the style of early nineteenth century romanticism. Mendelssohn showed great musical talent as a boy and he wrote many compositions, for example he wrote 6 symphonies before he was 12. Many however were discarded. He made his first public performance at the age of nine and he began to compose works of great maturity. At the age of 16 he composed his comic opera "Die Hochzeit des Camacho" (1825) and during the same year the Italian composer Luigi Cherubini (1766-1842) encouraged him to follow a musical career.
Other early works include the overture "A Midsummer Night's Dream" (1826) and "Octet" (1825). One of his great achievements was the use of woodwind instruments in orchestral music as in his "A Midsummer Night's Dream" which was inspired by Shakespeare's play.
Following Weber's example, Mendelssohn acquired a taste for the supernatural, writing light fairy music that influenced Berlioz and others. His Romantic style can best be heard in his "Violin Concerto" (1844) which was considered to be the first of the great Romantic violin concertos. Mendelssohn wrote music for almost every form and instrumental combination. He wrote two oratorios, "Elijah" (1846) and "St Paul" (1834) both based on the bible. "St. Paul" was first performed at a D?sseldorf festival in 1836. Other works composed by Mendelssohn include "the Wedding March", "The Nocturne" and "the Scherzo".
He pioneered the concert overture such as "The Hebrides" and "Fingal's Cave". A visit to Scotland inspired the Scottish Symphony in 1842 and a visit to Italy inspired the Italian Symphony in 1833. His first visit to England was in 1829 where he found that the Victorian English adored him and he even enjoyed much popularity with Queen Victoria. He went back often and his "Elijah" was written with an English audience in mind. It was first performed in Birmingham in 1846 and was a huge success.
It is thanks to Mendelssohn that the revival of Bach's music took place in the 19th century. He was instrumental in the performance of Bach's "St. Matthew Passion" music which he conducted in 1829 with the permission of his teacher Zelter (it's first performance since Bach's death in 1750). He also played a major part in the revival of Handel as he performed "Israel in Egypt" in 1833 in D?sseldorf. He took up post as city music director in D?sseldorf in 1833 where he helped found a new theatre and revived some of the greatest operas by various composers. He premiered Schubert's "Great C Major" in 1839.
In 1835 he became conductor of the orchestra of the Gewandhaus (meaning "cloth hall") in Leipzig, a position which he held for the rest of his life. He raised the standard of the orchestra and improved the working conditions. He married in 1837 and fathered five children. During the next few years he hit the high point in his career and wrote several of his finest works including "Lobgesang" (1840) and "The Variations S?rieuses". Severe overwork combined with the shock of the death of his sister Fanny led to his own death in November 1847.
Essential Albums:
Click on album cover to buy.